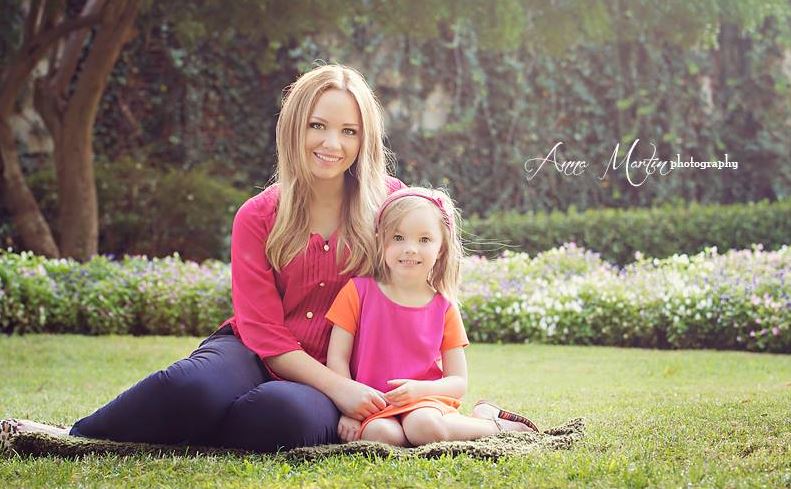 Name:  Rachel Kay Burks
Daughter's name and age: Maycey Monroe, age 6
What was the best thing about being pregnant? I actually had a really difficult pregnancy, so the best thing about mine was when it was over!  I had a beautiful baby girl who has changed my life in the best possible ways.
The worst? The hardest part was being put on bed rest because of preeclampsia.
Where are you from and how long have you lived in NWA? I am originally from Conway and I moved to Fayetteville last July. But for a few years in between Maycey & I lived in Brooklyn, New York.
What brought you here? After a few years of living in New York I knew I missed my home state of Arkansas but since I lived in Central Arkansas most of my life I decided to give Fayetteville a try!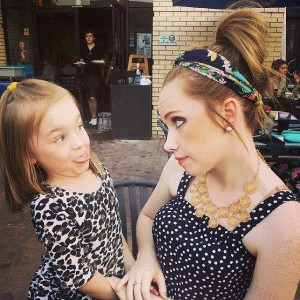 What are you and your daughter loving most about Northwest Arkansas? We love the community! There is always something fun happening! But our favorite thing to do is probably visiting the farmers market on Saturday mornings and then going for brunch afterwards.
Tell us about your job as a kitchen designer: As a Kitchen Designer I get to design and remodel everyone's favorite room in the home!  It's always interesting to come into someone's home and see how they live.  My projects become very personal to me, because it's more than simply making a room look pretty – it's helping improve someone's day to day life. (Rachel works for Kitchen Distributors of Fayetteville, FYI!)
Tell us about a typical day for you: Every day is different! Most days I come to the office to draw up design plans and give showroom tours. Then I pick Maycey up from school and head to soccer, softball, or dance practice.  (Or Junior League for me!)
What's something your friends might not know about you?  Hmm… That isn't possible because I don't keep anything from my friends! But they might not know that when we lived in Brooklyn, we lived in a Hasidic Jewish neighborhood.
If you could vacation anywhere in the world this summer where would it be? My sister is a missionary in Africa, so I am actually going to visit her in a few weeks!
What's the most enjoyable thing about being a mother? The best part is Maycey of course. She has the biggest, happiest personality and there is never a dull moment. She keeps me on my toes and she keeps me laughing literally ALL the time!
What's something you have always wanted to learn? I have always wanted to learn how to sew.
What are three things you always have with you? Blueberry red bull, heavy duty measuring tape and headphones.
How do you relax at the end of the day? Doing the dishes by hand.  Call me crazy, but it is a stress reliever for me!
One word to sum me up … Fearless!
Photo credit: Anna Martin Photography