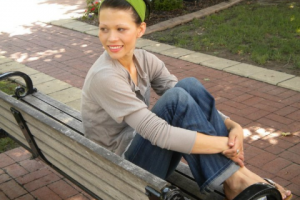 Name: Lauren Dowling
Daughters' names and ages: Twins! Taylor Mae and Macy Grace (2 years)
Where are you from and what brought you to NWA? I am from Grandview, Texas. I moved to Arkansas with my mother, brothers, who are twins as well, and my sister in the early 90's. I have lots of family still in Texas and I visit as often as I can.
If you could live anywhere in the world, where would it be? If I could live anywhere, wow. I would have to say France. I would visit first, of course, and if I fell in love, I would set up some classes for the girls and I to learn the language, and pack up! I can just imagine decorating a quaint little house there. Oh, it would be fabulous. I am working on my family tree and just recently found some amazing resources on my French ancestors. I am currently researching the members of my family that were born in the 1600's. It is a dream of mine to find my Guedry dit Labine family members still residing in France.
If you went back to college what would you study? I'm back in college! I was in college right out of high school here in Northwest Arkansas. After moving to Scottsdale, AZ only a year later, I changed my major and attended college there. I found myself back in Northwest Arkansas years later, not having earned my degree yet. As I was getting ready to return to school here, I got the news I was pregnant. Then got the news I was having twins. I made a promise to myself that when I went back to school, there was no more leaving. I was going to stay with it and not be done until I had the degree in my hand! I made a choice to focus on my pregnancy at that point and hold off on school. I wanted to continue working, but I made another promise. This new promise wasn't just to me, but to my unborn girls as well. I promised I would go back to school and finish this time. I want to show my daughters that in the hardest of times, you can find the strength to earn what you want. But you have to want it real bad. As a full time student, taking 20 hours a semester, I will have my Associate Degree in Occupational Studies in Medical Assisting in 2011. I know it is my calling to work in the field of Geriatrics, both clinical and administrative. I am truly dedicated to stop elderly abuse and raise the bar, high.
What's your work background? At 16, I started out working in a retail pharmacy. After two years, I received my Pharmacy Technician License. I worked for an independent pharmacy as well here in Northwest Arkansas, where I was mainly working with hospice patients and their medications. I also worked as a dental assistant in Phoenix. I have spent time over the years doing community service for our geriatric patients in the Rogers/Bentonville area, which I have always enjoyed.
If you had a whole day to yourself what would you do? I am an artist with no time! If I knew I was going to have a day to myself, I would most definitely make sure the house was spotless so I wouldn't spend the whole day cleaning!! A day to myself would consist of gathering random things from around the house to paint/re-decorate the girls room. Something different, something with their mommy's touch, something representing a new and exciting time in our lives. I'd take a lot of pictures of it…then finally make a trip to Helping Hands to drop off all ten-thousand bags of STUFF that I've stored away, just waiting for a day to take it!
What's something you've been meaning to do but can't seem to get around to it? Oh, don't remind me…! I have about 3 rooms in my home that I started to paint last month. The thing is, they are about 90 percent painted…why it's so hard to spend less than an hour out of my day to finish them all, I have not an answer.
What are some of your favorite things to do with the girls in Northwest Arkansas? It's beautiful here. I am very active, always looking for new things to do with the girls. The three of us really enjoy walking and hiking. Our favorite things to do on a nice day would be taking the trail down to Compton Gardens to see the progress. It's something that fascinates me and the trail is beautiful and toddler/stroller friendly. The girls love to see other dogs, other than our Min Pin, Vinny, walking the trail. I take them to the dog park, they like to watch the big dogs run and play. It is a beautiful sight to watch my daughters find a sense of calmness while watching animals. I knew they were affected in the same way I am by animals, big or small, the first time I took them to see some large livestock. I could see it was therapeutic for them. It's going to be wonderful to share that passion together throughout our lives.
What traditions do you hope to pass on to your children? I'm working on that. The traditions will be new traditions, starting with us three girls. It's exciting. I'll keep you updated…!
What's a make-up essential you couldn't live without? You know when you get a bit exhausted and your face gets a little pale? Bronzer. It's like magic!
What would you do with an unexpected gift of cash? Fill that van up with gas, give a good donation to our church, and pay my babysitter in advance!
What was the best parenting advice you received? Make time to love on my daughters. Give them hugs and kisses even when they are "too busy" for mommy…Just do it anyway.
The worst? A mother told me that twins need the same attention, affection, etc., or they will be jealous of each other. I see no truth in that. My girls are identical twins, but they are far from "identical." My twins thrive off of being individuals. The most challenging part about having twins in my opinion would be giving them that individual attention they need from me at all times and opening my eyes wide enough to spot when some extra is needed. I believe my girls have never been jealous of each other. They both know they will have her time with mommy. If one of my daughters is happy, my other daughter can sense that. That's when I see the love they have for each other, not jealousy. I have raised them 100% by myself since before they were born until this very day. It's no lie, it's hard to spend one-on-one time with them often. But all that I need to know at any given moment is revealed to me. I trust God and I trust myself.
If someone wrote a book about your life right now, what would a good title be? The Bag Lady: A Love Story.
One word to sum me up … Altruistic