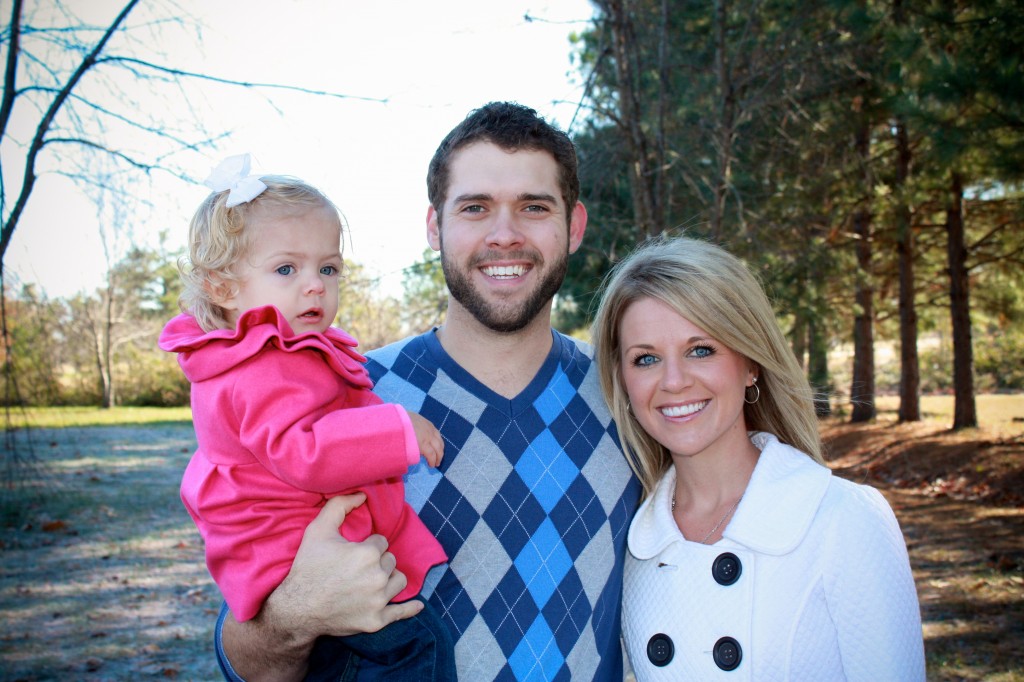 Name: Angela Taylor
Daughter's name and age? Turner Renee, 2 ½. She's named after one of our best friends from Texas. I knew she'd be a Turner before I even knew her sex.  Now everyone says they couldn't imagine her with any other name.
Where are you from and how long have you lived in NWA? I'm from Mckinney, Texas (just north of Dallas) and we moved to NWA in June 2010.
Tell us about your job at 40/29: I anchor the evening news at 5, 6 and 10, but I also do a lot of writing, reporting and calling around when we get a news tip. I'm always doing something so I never get bored.
How long have you worked in television? I started as an intern when I was 20. (whoa! I feel old) I've been in this business for 11 years.
What three makeup products do you always have on hand to keep your look "fresh"? Powder, Lip gloss and eyeliner.
How long have you been married and how did you meet your husband? We've been married 5 wonderful years. We actually went to college together, but didn't meet until I started my internship at the TV station. We had an instant connection, but didn't date for years. I knew that he would one day be my husband.
What's your favorite kind of music right now? I'm a country girl.
What's one of the cutest stories you're telling about your daughter right now? We love all your twitvids! She is so animated and funny. If she spots an American flag she'll put her hand over her heart and say "God Bless America". It's adorable coming from a 2-year-old.
Tell us about some traditions you've started with her: Leading up to her May 19th birthday, we have 19 days of "Why we love Turner". We sit down and talk about each one with her and then she colors on them. Once they're all finished we hang them up on the fireplace. She loved doing that this year and we can't wait to do it again next year.
What are your personal hobbies? Reading and soccer. I play for three soccer teams. It's my 'Me' time.
If you could have travel anywhere in the world right now, where would it be? Backpacking through Europe. My husband and I have put it on our bucket list, but if we're talking practical…a trip home to Dallas to see my family!
What's the best part about Fall? LEAVES! I'm from Texas where it goes from Summer to Winter. I love watching the transition from fall to winter. This is such a beautiful area.
What's something you've always wanted to learn but can't seem to find the time: How to play tennis. My husband is pretty good, but I keep finding excuses for why I can't learn.
What are your top pet peeves? A dirty car (which I am guilty of)
How do you unwind at the end of the day? I either read or watch TV. I don't get home until after 11 so I'm awake when everyone else is asleep.
One word to sum me up … Driven