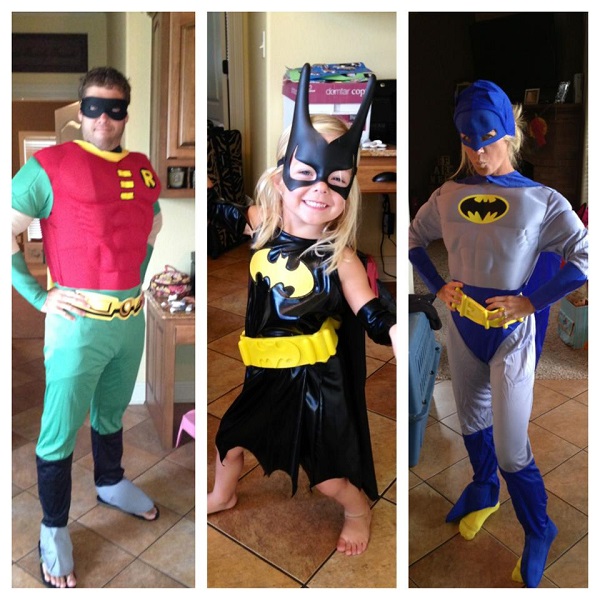 Name: Angela Taylor Farmer
Daughter's name and age? Turner Renee, 4 years old (why do they grow so fast?)
What's something funny she did recently? If you get a chance to meet her, introduce yourself. She's a little comedian.
Turner: Mommy….mommy….mommy….

Me: Turner, What's wrong?

Turner: Mommy, my butt is itching. I need your help so I brought these.

Me: Turner! Where did you find scissors?

Turner: I saw you hide them. Can you cut out my tag? My butt is itchy.

Me: Lord help me!
By the way, this was three in the morning!!
I'm not sure where she comes up with some of the stuff she says. I love her innocence and imagination. She's a constant reminder that life is fun and don't take everything so seriously.
 How long have you lived in NWA and what brought you here? We moved to Springdale in May of 2010 for my job. It was a big step for us because Turner was not even a year old and our  family is in Texas. Looking back, we made the best decision making Arkansas our new home.
How did you meet your husband? I met him while I was interning at a TV station. We were both in college.  He was just 18, I was 20. I loved his care-free personality. We became instant friends, started dating five years and here we are.
I always knew we'd marry, but it took many years for us to find our way back together. He moved to Chicago for work, I went to New Mexico for graduate school.
I loved to visit him, but the winter was way too cold for me. When I moved back to Texas,  I called him up one day and told him to move home or I wanted to break things off. Believe it or not, he came home a month later with a ring and a new job! Here we are 7 1/2 years of marriage later.
Tell us about your fabulous job in television: I do have a pretty cool gig, except when the weather gets nasty. I could use far less tornadoes and winter storms.
This year has been extra fun for me. 40/29 sent me to New York City for a few days to interview Dr. Oz and tour the city, plus we won an EMMY for best newscast. How cool is that?  I often look back and wonder how in the world I got here. I never thought there would be a perfect job for someone who always got in trouble for talking too much in class, reading books instead of listening to the teacher or writing notes to friends instead of taking notes. Here I am now doing all the things I was told not to.
Where do you like to hang out with your family in NWA? We are all over the place. We love to hike, bike, swim—you name it! Razorback soccer is our absolute favorite to watch.
Also, Turner loves being outside and we live in an awesome neighborhood so it's really common to see us in the cul-da-sac with all the neighbors just hanging out.
Do you have any fun hobbies? I've played soccer my entire life, so I'll still get out and kick the ball around from time to time. I also love to read and not just a teleprompter. I'm a sucker for a good love story.
What's playing on your iPod right now? Luke Bryan (for obvious reasons), Train, and Bowling for Soup (it's the most obnoxious, upbeat music that is perfect for running).
What's been the most unexpected thing about motherhood for you? Justin and I are so blessed to have Turner. She was (and still is) very easy going, loving, and kind-hearted. I was sick during her pregnancy, but otherwise everything was smooth sailing. So when we decided we were ready for number two, we imagined it would be just as easy, but it wasn't.
February 2, 2012, we lost our second little girl to a rare anomaly. Call me naive, but I never imagined we could lose a child. After our loss, we became part of support groups. It was there I discovered so many women struggling with losses, some miscarrying time after time and never getting to hold a baby of their own. Our loss changed us in so many ways. It wasn't until recently did I finally feel like my heart was starting to heal. It's changed our family in so many ways, but we are stronger than ever. I used the superhero picture for this article because it reminds me of the strength we needed to get through the past year and a half.
What's something your friends might not know about you? No judging, ok?
During my freshman of college, for one week I dyed my hair black. Why? I have no idea. It looked terrible.
 If you could vacation anywhere in the world this winter where would it be? Send me to a beach! I don't care where it is, just give me sun and sand.
What's something you have always wanted to learn? A second language. I actually made that my goal this summer, but failed miserably. Maybe next summer…
What are three things you always have with you? Cell phone, gum and lip gloss. If I could carry wine around, I would!
What would a dream day look like? I don't get much sleep. My hours are crazy. I'm a full-time mom, anchor, wife, friend–as most of us are! I'll take one day where I can sleep with no interruptions! That would be a dream come true.