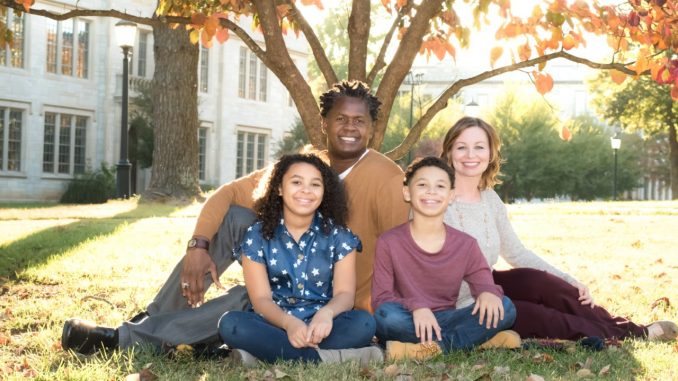 Summer Anderson is a local teacher and mama of two who promotes kindness wherever she goes. We can totally get behind that mission! 🙂 Find out more about Summer and her family in this Q&A:
Children's names and ages: Selah, age 13 and Sage, age 12
Where do you live and what brought you to NWA?
We live in Fayetteville. We moved here in the summer of 2011. After 10 years living in Texas (Dallas, Houston, and San Antonio), we had no intention of leaving Texas.
We were visiting my parents in northern Oklahoma and my husband had a friend coaching at the University of Arkansas. He invited my coaching husband to Fayetteville to coach a summer football camp.
Not long after my husband arrived in Fayetteville, he called me and convinced me I needed to see the area, and that it checked the boxes of everything we wanted: college town, mid-size city, beautiful nature and outdoor activities. I was hesitant but decided to visit the area. We packed up everything and moved to Fayetteville two weeks later.
We know you're a middle school teacher. How's everyone holding up?
The past few years of school have been very challenging. This is my 17th year of teaching, so I have a lot of experience in education. It is well-known that many educators are leaving due to the stress and the workload. School seems to be going on as usual without us having the tools to help our students and families (and teachers) deal with trauma from a pandemic, racial injustice, and a politically divided country.
Our students are so resilient. As teachers, we have watched them handle things like mask-wearing and calendar changes and online learning so well. At the same time, they see the world differently now and they have started questioning what school should look like for them. My students give me hope that they can create a better future for us all.
You mentioned in a comment on Motherlode that you try to promote kindness. Can you tell us about that?
As a teacher, I have taught my students that if they can remember one rule, to be kind, they can be successful in my class. If we are kind to ourselves, our classmates and teachers, and to our environment, everything else falls into place. Does that mean we can't disagree or ask questions? No. It just means that when we disagree or have problems, we can do so with kindness, allowing for differences and discussions. I believe that enforcing kindness creates a safe place for my students, knowing that I will enforce that rule for everyone.
Middle school can be hard; at this age the students care more about what their peers think and less about pleasing their teachers. This is an age where bullying can be a problem, but I have found that often bullies lash out as a way to protect themselves from their own insecurities. When everyone understands that kindness is an expectation, the students begin to trust the teacher and build stronger relationships with each other.
What would your "perfect NWA day" look like?
My perfect day in NWA often includes a weekend brunch date with my husband. We especially love Mirabella's Table in Rogers and Table Mesa in Bentonville right now. Our go-to pizza is Tim's Pizza in Fayetteville. With the kids, we enjoy the trails around Crystal Bridges, and hiking at Mt. Kessler. We love to spend time outside at our favorite parks: Gulley park, Wilson park, and Creekside park in Farmington. A perfect afternoon for my daughter and me would be unlimited reading time at the Fayetteville Public Library.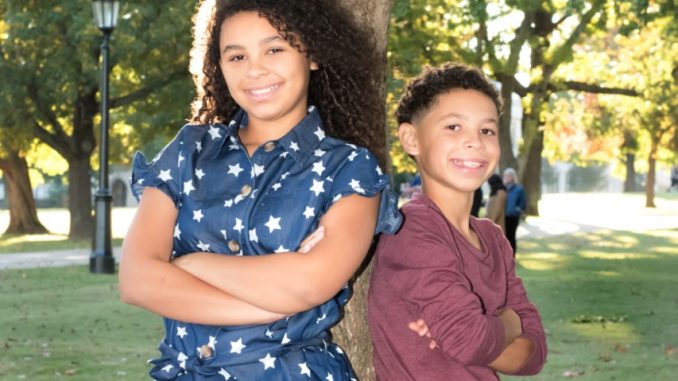 Name 3 things you have with you at all times:
A book! Usually through the Kindle app; I love using the Libby library app to check books out online through our local library.
Coffee. I need at least two cups (sometimes 3!) to fuel my day!
A notebook: I love to check things off my to-do list, and it keeps me organized.
One thing I have been meaning to do is:
Take cello lessons! The cello is my favorite instrument, and learning how to play is on my bucket list.
What would your music playlist tell us about you?
My music playlist is very eclectic. I like a little bit of everything, and I am a mood-listener. I know when I am feeling down, I can turn on some 90's R&B and dance out my sad feelings. When I want to feel things deeply, I am likely to play a ballad from a musical and just belt it out. After a long day, I love to cook dinner while listening to calm folk music like Johnnyswim or Penny and Sparrow.
What's something your friends might not know about you?
As a teen, I didn't make friends easily. I was very shy and a little anxious. As an adult, I feel very blessed to have incredible friendships with amazing women.
What did you want to "be" when you grew up?
I wanted to be a ballerina when I grew up!
If you could snap your fingers and have a new talent, what would it be?
I would have an incredible singing voice. I love theater and the stage, but I never really had the voice for it.
What's your favorite way to chill out at the end of a busy day?
Now that the weather is warming up, I love to lay in a hammock in the backyard and read. I always grow flowers in the spring, so going outside to admire my garden, listen to the birds sing, and escape into a good book is the perfect way for me to relax.
Who do you most admire? Why?
I really truly admire my husband. He is an incredible leader who is always hopeful and optimistic. He is always taking the time to do things for other people and invest in their lives. He tries to live every day to the fullest, and he makes the most of every moment.
What do you want people to remember about you?
I hope people remember that I cared. I teach because I really care about my students and their families. I want to help make the world a kinder, more beautiful place.
One word to sum me up: Compassionate