Name: Lyndsey Konsbruck
Kids' names and ages: Bennett, 2 years
How long have you lived here? We moved here from Arizona in September.
What brought you to NWA? My husband's job brought us to NWA.
What are some of your favorite places around the area so far? The museum, parks for Bennett and Buttered Biscuit (we love our breakfast food :)).
What's something you desperately miss about Arizona? Our friends that we have made over the years living there, outlet mall, most any clothing or purse store and cheap produce.
You mentioned that you're due with a baby girl in October. Do you have a name picked out yet? We go back and forth with names, however, we have one name that never leaves our list….but we are telling no one ;).
Tell us about a day in your life: Well, since we moved to NWA, I became a stay at home mom to my son, Bennett, who was born with Down Syndrome. He keeps me busy with therapies twice a week for PT, OT, and Speech. Bennett is someone who radiates pure happiness and has the ability to make us feel so loved! I am honored to be called his mother.
What's something unique about you that might surprise some people? I was a junior Olympic softball player when I was 12 and we won state numerous times.
What was the last thing you laughed out loud about? Probably something to do with my son or something my husband did or said.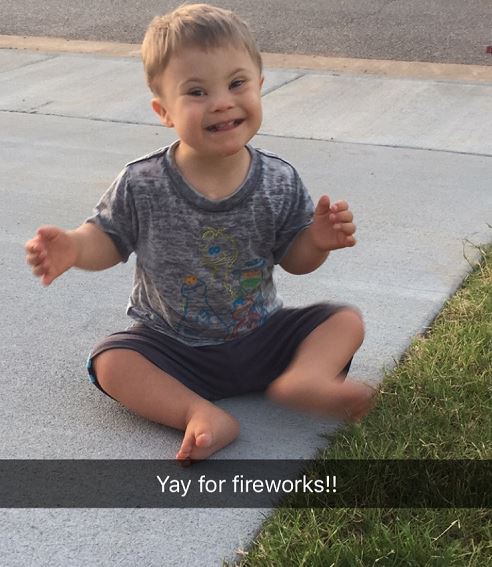 What's your favorite movie of all time? Dirty Dancing or Harry Potter
What about your favorite book? Harry Potter
Would you rather go sky diving or deep sea diving? Sky diving
What's one of your guilty pleasures? Watching the real housewives of Orange County and New Jersey.
If you could have a whole day of pampering, what would that include? A massage, mani/pedi and a hair cut/style!
What do you most want people to remember about you? That I'm a good mom, kind, honest and trustworthy.
One word to sum me up: Ooohh hard…..I would say caring.
Our many thanks to First National Bank of NWA for sponsoring this feature, which celebrates all the unique moms here in Northwest Arkansas! CLICK HERE to visit the FNBNWA website or follow them here on Facebook. FNBNWA is a full-service bank and has multiple branches, including:
801 N Dixieland Road, Rogers, 479-621-6800
3706 Pinnacle Hills Pkwy, Rogers, 479-464-9060
E. Pleasant Grove Rd., Lowell, 479-659-7100
350 E. Centerton Blvd., (Hwy 102), Centerton, 479-795-4200
2638 E Joyce, Suite 1 Fayetteville, 479-856-7800
Save