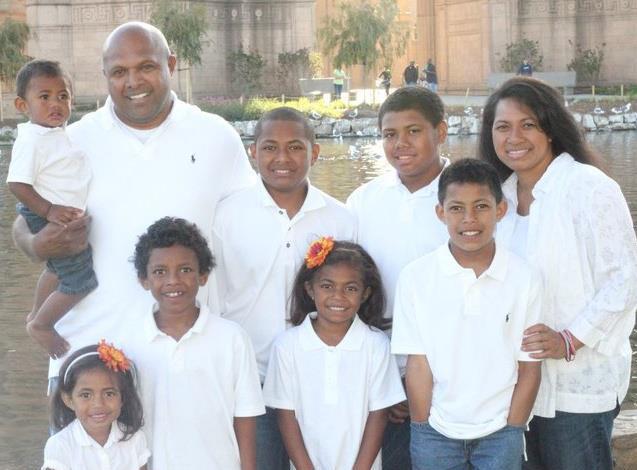 Name: Val Damuni
Kids' names and ages: Emosi- 14, Levani- 13, Junior- 11, Jovesa- 10, Nia- 7, Lusi- 5, Damien- 2
Where are you from and how long have you lived in NWA? I was born in Tonga, a Polynesian island in the South Pacific, but I was raised in the San Francisco Bay Area since I was two. We've lived in NWA for almost 5 years.
What's one movie you could watch over and over again? Beaches. I love movies about friendship.
Tell us a little about your big family: My husband, Waqa and I met when I was in college at BYU in Provo, UT. I majored in Dietetics/Food Science and Nutrition. He is from Hawaii. He played football at a Junior college in St. George, UT and was recruited to play at Utah State University in Logan, UT.
After we got married, we lived in Logan until he got his Masters Degree. By the time he graduated with his MIS, we had 5 kids. His work has taken our family to Memphis, TN; Boulder, CO and we've lived in Fayetteville since March of 2008. He works as the Director of Academics-Football for the Arkansas Razorbacks.
We have 5 kids in Fayetteville Public Schools. Two are at Woodland Junior High, one is a 6th grader at Holt Middle School and two go to Butterfield Trail Elementary. I am a full-time homemaker with a five and two year old at home. Most of my time is spent doing things for my family. We just finished football season with four boys and my daughter played volleyball. The biggest challenge every year is to arrange schedules, set up carpools and attempt to be at as many games as I can. We have great friends, so it all worked out this year.
Tell us about some traditions you've started with with your kids: My kids started the tradition of celebrating their "half birthday". The only catch is that they can only celebrate their half birthday if they remember it's their half birthday. The celebration includes 1/2 of a birthday cake for the child and the other half is shared with the family.
Where does your family love to play in NWA? My older kids enjoy Beaver Lake and camping at Devil's Den. The kids like to spend time at the University HYPR building. Every chance they get, they practice their high dives. They aren't very good at it, but it's entertaining to say the least. The younger kids like Boingo Bounce and rock wall climbing at the Boys and Girls Club. We enjoy the parks and walking trails in Fayetteville. One of our favorites is the trail near our home. The trail goes through the perfectly shaded Gordon Long park on Gregg St. then continues on to where we can take a short detour to see the ducks in the pond at the hospital.
Do you have any special hobbies? I like to cook. I have a lot of cookbooks, spices and kitchen utensils. I have even more pots and pans. I like to recreate foods that I've had at restaurants. My family likes Hawaiian/Polynesian food. I like to think I've mastered it.
What's something your friends might not know about you? My friends might not know that I lived in Saskatchewan, Canada during my freshman to junior years in high school. Even my kids were surprised to hear me sing Canada's national anthem.
If you could vacation anywhere in the world this winter where would it be? I would ultimately wish to go back home to California. I'd love to see my mom again. She's 83 years old and has been widowed for 2 years. She's an amazing woman. Also my youngest sister will be there. I haven't seen her in 4 years. She lives in Tonga with her family.
Who would you want to play you in a movie about your life? I think I'd want to play myself. I'd love to see a replay of myself running down the street chasing my naked two year old or for my junior high school boys to see me drive back and forth 6 times in one day to their school because they had forgotten things.
What's something you have always wanted to learn? I've always wanted to learn how to crochet. I can make a mean chain, but other than that, there's not much there.
What are three things you always have with you? I've been known to have the most random things in my purse...pliers, a packet of sauerkraut and toddler underwear, but I think I'm going to go with what I always make sure I have in my purse, my cell phone, lipstick and toddler underwear.
How do you relax? Every now and then, my husband sneaks me off to get sushi at my favorite restaurant. In the afternoon, I do happy hour at Sonic and from midnight to 2 a.m., I fold laundry and catch up on "The Real Housewives…"
One word to sum me up …Practical