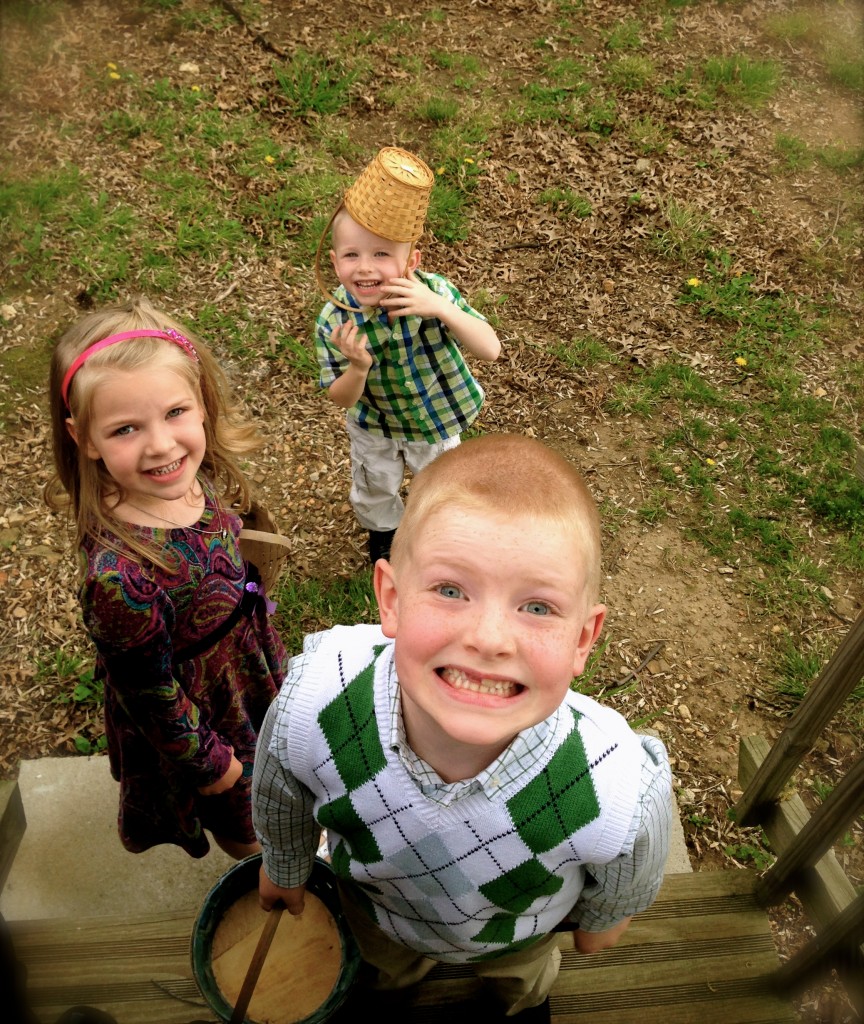 Name:
Lindsey K.
Kids' names and ages:
Bentley (7), Logan (girl, 6), Roman (4)
What's one movie you could watch over and over again?
Nothing really comes to mind…maybe The Avengers? Back in college days, it would have been Patch Adams or The Other Sister. A League of Their Own is great, too!
Tell us about some traditions you've started with your kids:
A simple birthday tradition we've been doing includes taking the birthday child to pick out a couple of balloons from Party City, and then usually a lunch date with Daddy if it falls on a weekday.
My husband has also made dates with our daughter a pretty regular thing (particularly for the special daddy-daughter date nights put on by CFA). Inadvertently, we've spent every spring break (that I can recall) with our kids' out-of-state cousins. Last summer they moved nearly 3x the distance they were previously and weren't going to be able to come to AR for spring break. We managed a VERY last minute trip to go see them, and I'd love to make that our new spring break tradition – especially since my oldest son and oldest nephew both have birthdays over the break and have always spent them together.
And may I just give a shout-out to my AMAZING traveling kids?! I took them by myself (to VIRGINIA; ~1025 miles) and I'm convinced there are no better travelers than my kiddos – we managed only 1 hour worth of stops each day on the 2-day drive there. Summer traditions include spending lots of time with out-of-state cousins, and possibly a trip to FL (just mommy and kiddos) to go see my grandparents and sister.
If we manage that trip this year, it'll be our second year in a row. I feel it's important to see my grandparents as often as I can while they're still with us. I suppose you could some up the last half of that as: Road trips with Mommy for spring break and summertime!
Where does your family love to play in NWA?
We have only been to Tanyard Creek once – but it was AWESOME! We will go again this summer. Closer to us, but with some of the same frills as Tanyard Creek, is the park on Horsebarn Road. The creek there is great and we just discovered a Mulberry tree there this week – those berries are DELICIOUS! Otherwise, we love hopping around to our local Springdale and Fayetteville parks (the new Rotary Adventure Park in Springdale became a quick favorite). Once in a blue moon we might go to Jump Zone, Boingo Bounce, or Little Giggles – and those are a HIT every time!
What's something your friends might not know about you?
I rarely ever listen to the radio. I don't typically have it on in our van, but even when I'm alone – I usually just drive in silence. Ahhhhh, silence.
If you could have vacationed anywhere in the world this summer where would it have been?
New Zealand sounds nice!
Who would you want to play you in a movie about your life?
Oh dear, this is totally not up my alley. Maybe Candace Cameron Bure…? I'm trying to come up with a Christian woman, or anyone who would remotely be like me. I suppose it'd be her.
What would the name of the movie be?
The two hardest questions of this whole interview – aah! I'll go with, "Redeemed."
What's something you have always wanted to learn?
I'd like to learn more about photography and editing. I take photos for family/friends for fun, but I'd like to learn more.
What are three things you always have with you?
Chapstick/lipgloss, my phone, and my incessant brain chatter 😉
How do you wind down at the end of the day?
Usually just by watching some TV with my hubby and a cup of hot tea. Sometimes it's sans TV and we just talk.
One word to sum me up …
Intricate.