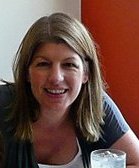 Name: Lee Esmond
Children's names and ages? Catherine "Cati", 4 and the emergency contact for Otis, a 6 yr. old overly needy loving yellow lab
Where are you from and how long have you lived in NWA? I grew up in Scottsdale AZ, and went to college in a small mountain town in AZ, Prescott.  We've been in NWA since August 2007 prior to that, Chicago, San Francisco, Paris, San Francisco….so clearly NWA was a natural progression 🙂
Tell us about your job at MARS Advertising: I am the Marketing Director for the Agency's Consumer Electronics group where I have the pleasure to work among the brightest people I know.
And your husband is a chef at Bordinos, right? Yum! Yes. He started in February of '09 as the Chef de Cuisine and became the Executive Chef in May of this year. The greatest misnomer about being married to a chef is that I eat well. Since he works 5 nights a week, I am a HUGE fan of take out and cereal for dinner!
What's your favorite kind of music right now? Anything not related to Dora or the Wiggles! I am really enjoying a new artist I found via Pandora, Amos Lee – he's got a lot of Keb Mo in his sound. Pandora.com has really expanded my listening horizon and has enriched my iPod playlists!
What's one of the cutest stories you tell about your daughter right now? Oh goodness, she is at such a fun age and is very precocious so picking only one is a challenge. She recently approached a Marine at the airport and asked if he was a soldier, when he said that he was, she asked if he was an Army Ranger (her cousin is in Ranger school) when he said that he was not, she replied with "oh so sad, try harder okay". Needless to say I wanted to disappear!
Tell us about some traditions you've started with her: Sundays are donut morning. Since Greg works very late on Saturday, I try to get her out of the house so he can sleep a little later. She's a big fan of the chocolate sprinkle donuts at Daylight. I also bring a book home from every business trip that we can read together. I try and get one that is about the location I've been in but it doesn't always work out. I write the date and the trip on the inside. It is my way of helping her foster a love for reading and curiosity about other places and also ensuring she knows that I think of her while I am gone and returning with something for us to do together.
What are your personal hobbies? I'm not sure I totally grasp that question now that I have a kiddo and a full career and a husband who works an opposite schedule 🙂 Reading and waterskiing, I love to eat and thus I cook (misnomer #2 – Chefs don't cook at home unless it is a holiday!) and I could be ready to travel anywhere in less than 1 hour.
If you could have a second home anywhere in the world where would it be? The French countryside, likely small town in Burgundy. We lived in Paris for a year and I simply love how everything is just beautiful and the simplicity of the culture. The French truly embrace life's little moments, taking very little for granted. They don't save the good crystal for only a special occasion; they use it for milk, because today is a special occasion. I think there is something very special about that mindset which I would like to better to embrace.
Where was the last place you traveled? Charlevoix, Michigan. We just returned on Monday after a few weeks and I am ready to go back!
What's something you've always wanted to learn? To surf, and to take life as it comes, embracing the little imperfections.
What three things do you always have with you? My blackberry, Co Bigelow cinnamon lip gloss, & a sense of responsibility to maximize my opportunities because my mother's generation did not have permission to have a professional sense of self along with a personal one. Even today somewhere in the world there is a woman who dreams of having the freedom to pursue her own agenda. I realize that I am truly blessed that I have options with regard to my professional and personal life and choosing one doesn't mean omitting the other. We can never take those things for granted.
How do you unwind at the end of the day? My husband and I have a notebook that we try and leave notes in for one another in daily. Since we have very limited together, it is important for us to find a way to stay connected and in synch when we are apart. He leaves a note for us which we read when we come home every day and I end most days leaving him a note that captures the highlights of our night, any questions I have or household stuff – that way when we do talk and see each other it is not all about to do lists and such. We've done this our entire relationship and I have kept them all. I can only imagine what Cati will think one day when we are long gone and she reads them. Reading is another way I disconnect from the day. There is always a book or 3 on my nightstand.
One word to sum me up … tenacious