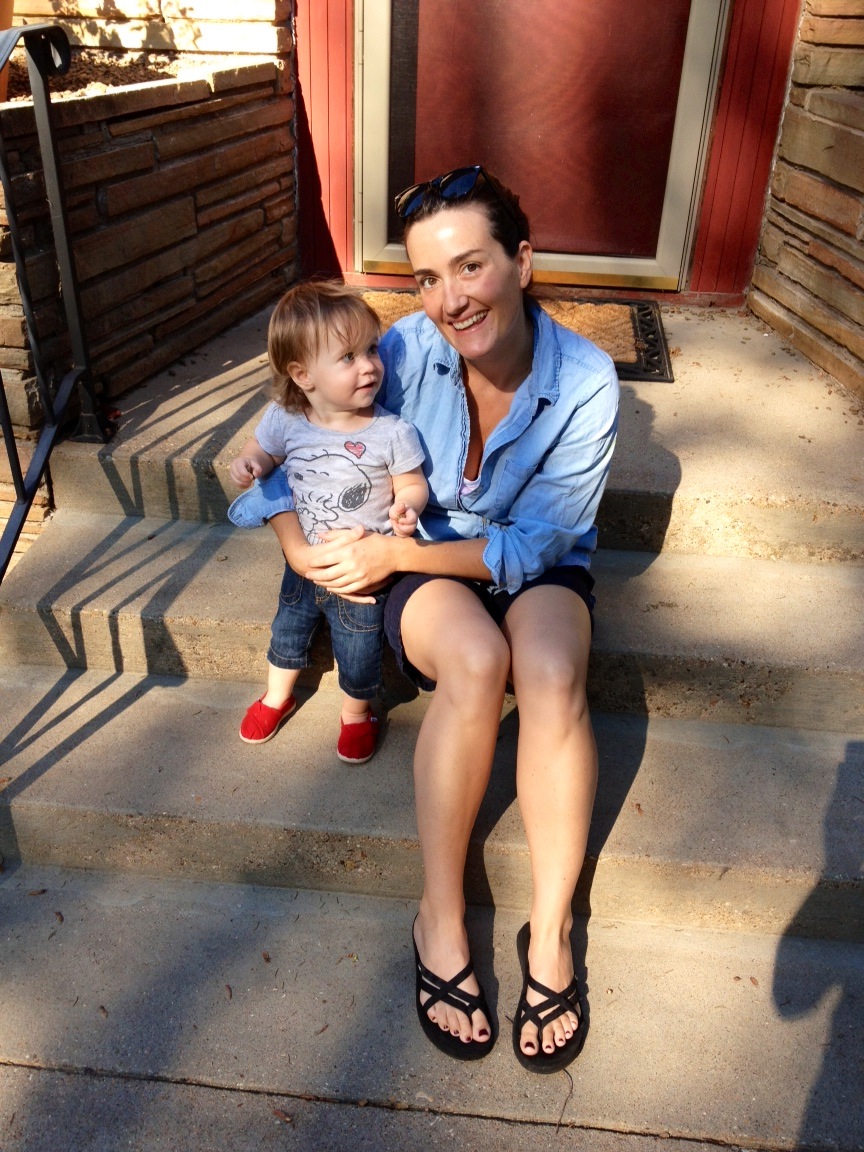 Name: Susannah Swearingen
Daughter's name and age:  Abigail Grace Swearingen, 16 months
Where are you from and how long have you lived in NWA?  I grew up in Arkansas and Texas, graduated high school in Austin, Texas. I came to Fayetteville for college, left for a few years and I've been back in NWA since 2005.
 What are your favorite hobbies? I do a lot of reading, pretty much any kind of fiction. I also like to write for fun, not just for work. I love riding my bike with my daughter in the bike trailer. In the fall, our world seems to revolve around Razorback football. I love being outside. I tried gardening for the first time this summer but that's a skill I haven't quite mastered.
Tell us about your work background: I was a reporter for the Northwest Arkansas Times and Northwest Arkansas Business Journal. Now I stay home with my daughter and do some freelance writing.
What's your favorite thing about fall? I love everything about fall but especially the colors of the trees and the crisp feeling in the air.
If you went back to college, what would you study? I would go to law school maybe. My dad, a physician, just went back and finished law school at 65 years old, he's inspired me! I've also always wanted to study marine biology, but that wouldn't be of much use around here.
What's something you would never have believed about being a mom? I didn't know how fast the first year would go by, I blinked and she was a year old! I also didn't expect to love it as much as I do. I never planned on staying home but it's been a blessing to spend so much time with my daughter.
Your favorite place to hang out with your family in NWA? We love tailgating at Razorback games. The library and Crystal Bridges have become new favorites. We also love the parks and the trails.
What is stressing you out the most right now?  Trying to get in shape.
What's your favorite way to unwind? I love a good book or movie and a glass of wine. Dinner with family is also a great way to relax. We have lots of family here and we love getting together.
Tell us something funny/unusual about you: I used to dream of being a country music singer. My idea of a great time is going to a karaoke bar and pretending I'm one of the Dixie Chicks.
What's something you like to tell new friends about you? I'm quiet at first but it doesn't last long. It usually surprises people when I come out of my shell.
What are three things you always bring along? My phone, water, chapstick
One word to sum me up: easygoing