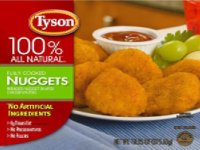 If chicken nuggets show up on your dinner table more often than you'd like to admit, Tyson Foods has introduced something that will make us feel less guilty about serving up this kid-friendly fare: 100% All Natural*™ Chicken Nuggets, which are minimally processed and contain no artificial ingredients, preservatives or fillers.
We first found out about these new nuggets (they even offer a dinosaurs-shaped version) while reading Tyson's tweets on Twitter.com.
If you're planning to serve chicken nuggets to the pickiest of your guests at the Thanksgiving feast this week, here are some dipping sauces to make the entree a little "fancier" than just serving them up with regular old ketchup. The recipes are courtesy of Tyson and Robin Miller, host of Food Network's Quick Fix Meals with Robin Miller.
Apricot-Teriyaki Dunking Sauce:
Ingredients:
14 1/2 ounce can light apricot halves (in extra-light syrup), drained
1/4 cup 100% apple juice
2 teaspoons bottled teriyaki sauce
How to prepare: Cook chicken nuggets according to package directions.
Meanwhile, in blender or food processor, combine the apricots, apple juice and teriyaki sauce. Purée until smooth.
Transfer the sauce to a small saucepan or microwave-safe bowl. Heat the sauce in the saucepan over medium-low heat for 5 minutes (until hot and bubbly), or in the microwave (covered) for 1 minute on HIGH.
Root Beer Barbecue Dunking Sauce:
Ingredients:
1 cup root beer (bottled or canned)
6-ounce can of tomato paste
2 T apple cider vinegar
2 T reduced-sodium soy sauce
2 tsp. Worcestershire sauce
2 tsp. chili powder
1 1/2 tsp. ground cumin
1 tsp. ground Dijon mustard
How to prepare:
In a medium saucepan, whisk together the root beer, tomato paste, cider vinegar, soy sauce, Worcestershire sauce, chili powder, cumin and Dijon mustard.
Set the pan over medium-high heat and bring to a simmer.
Reduce the heat to low and simmer 10 to 15 minutes, until the sauce reduces to about 1 cup, stirring occasionally.
Roasted Red Pepper Dunking Sauce:
Ingredients:
1 cup roasted red pepper pieces (from water-packed jar)
1 tsp. balsamic vinegar
1/4 tsp. garlic powder, or more to taste
2 T chopped fresh basil, optional
How to prepare: In a blender or food processor, combine the roasted red peppers, balsamic vinegar and garlic powder. Purée until smooth. Fold in basil (if using). Pour sauce into serving bowl.
Note: The sauce can be served room temperature or heated by pouring into a small saucepan over medium-low heat for a few minutes (or in the microwave, covered, for 1 minute on HIGH).
BONUS RECIPE Chicken Pizzettes with Choose 'Em Vegetables:
Ingredients:
1 package Tyson chicken nuggets
4 whole wheat flour tortillas (taco size)
3/4 cup prepared pizza sauce or pasta sauce
1 cup shredded mozzarella cheese
2 cups mixed, chopped vegetables such as broccoli florets, mushrooms, bell peppers, onions, zucchini, pitted black olives, and baby spinach leaves
4 tsp. grated parmesan cheese
1 tsp. dried oregano, optional
How to prepare: Preheat the oven to 400º. Arrange chicken nuggets on a baking sheet and bake for 5 minutes.
Remove chicken nuggets from the oven and cut into ½-inch pieces. Set aside.
Arrange tortillas on a flat surface. Top each tortilla with 3 tablespoons of the pizza sauce.
Top the sauce with mozzarella cheese (¼ cup per tortilla). Top the cheese with the chicken nugget pieces and any combination of vegetables.
Sprinkle parmesan cheese and oregano (if using) over top.
Transfer pizzettes to baking sheets and bake 5 to 7 minutes, until cheese melts and tortilla is golden brown.