by Rhonda Franz, nwaMotherlode.com contributor
Enjoy adding these recipes to your list of summer foods. These are perfect for light meals, picnics, casual eating on the back porch or pool parties for the neighborhood.
I adapted the following recipe from Emeril Lagasse's Simple Balsamic Vinaigrette. Just for fun, I say "Bam!" when I put in the salt or pepper. For even more fun, I let my three-year-old help by letting him shake the ingredients together in a jar. If you try this in your home, make sure the lid is screwed on tight.
Balsamic Vinaigrette dressing
Ingredients
¼ c Balsamic vinegar
¼ c apple cider vinegar or red wine vinegar
1-2 garlic cloves, peeled and minced
approx. ¼ tsp salt
approx. ¼ tsp black pepper
2 Tbsp brown sugar
½ c olive oil
1 Tbsp mustard
Directions
Whisk together balsamic vinegar, cider, garlic, salt, and pepper
Add mustard and whisk some more. Repeat with brown sugar.
Slowly add olive oil, whisking constantly.
No-Bake Cookies
No-bake cookies are the perfect summertime treat when you don't want the oven heating up your house. This recipe is my version of the tasty cookie.
Ingredients
2 heaping cups of sugar
¼ c cocoa
1 stick (¼ lb) butter
½ c milk
dash of salt
½ c extra crunchy peanut butter
1 ½ tsp extra strength vanilla
3 cups oatmeal (Either quick oats or old fashioned oats can be used, or try 1 ½ c. of each)
Directions
Combine sugar, cocoa, milk, and butter in sauce pan over low to medium heat.
When the mixture starts to boil, put the lid on and cook only two minutes (this melts down the sugar from the sides of the pan). Remove from heat.
Add vanilla, salt, and peanut butter. Mix well.
Stir in oatmeal.
Drop by spoonful on waxed paper, parchment paper, or cookie sheets
Let stand several hours until cookies hold together (if you can wait that long).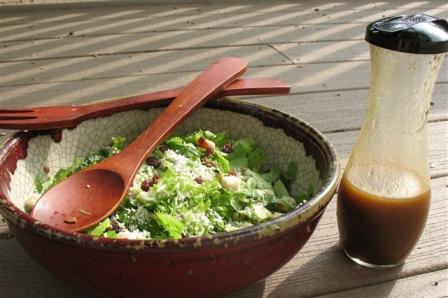 Summer Salad (This is my new favorite salad).
Ingredients
Several cups of mixed greens (I use a mixture of green leaf, romaine, and whatever I can find at the farmer's market)
As much or as little of the following as you want: raisins, sunflower seeds, shredded parmesan cheese or crumbled blue cheese, croutons, chilled vinaigrette dressing.
For a salad to serve four, I would use about two large bunches of romaine lettuce, a cup of raisins, ½ c. sunflower seeds, 1 ½ cups cheese, and 1 ½ cups croutons.
Directions:
Put all the ingredients in a big bowl and toss.
Drizzle vinaigrette dressing over the salad just before serving.
Tasty Veggie Sandwich
Ingredients
Toasted bread (sandwich bread or ciabatta rolls)
Cream cheese
Avocado
Cheddar or mozzarella cheese
Lettuce
Tomato
Salt & pepper
salsa
Directions:
Spread cream cheese on one slice of bread.
Add one thick slice of avocado, a couple thin slices of cheddar or mozzarella cheese, lettuce, two tomato slices, salt and pepper to taste, and about 2 tsp of salsa.
Party Dip
Add some zing to the popular Rotel and Velveeta cheese dip! Here's how to do it:
Mix according to directions (1 can Rotel to 1 loaf Velveeta cheese), or however you like to make it. Add the following and stir:
One diced tomato
1 cup chopped roasted red pepper (found in the grocery store on the pickle aisle)
2 Tbsp chili powder
Heat the mixture in microwave or on stovetop. Pour over warmed tortilla chips, or serve in a bowl for dipping.
Rhonda Franz enjoys cooking for her husband and two young boys. She loves the classic Rotel cheese dip, but hopes that if she eats enough of the summer salad, it will help balance out her diet. When she's not making a mess in the kitchen, she writes about all kinds of things at http://coffeehousemom.wordpress.com.
No time to cook tonight? Remember that Cuisines Gourmet to Go, which sponsors this feature, offers lunch daily and take-home meals for dinner. Today's specials are Chicken Breast Gorgonzola with Orzo Tuscano pasta ($8.95) or Scallops Scampi with Angel Hair Pasta ($12.95). The Motherlode Mamas have eaten at Cuisines many times, and we are huge fans. The food is amazing. Click here to see the list of daily lunch specials and take-home meals or call them at 479-631-2900. Bon apetite!