By Sarah Martin Hood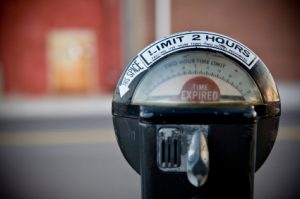 Have you heard about this yet? The city of Fayetteville is now offering an alternative, convenient way to pay for parking and – hopefully! – avoid parking tickets. Starting this week, people in numbered spaces on and around Dickson Street can pay to park and even add time to the meter — with a cell phone!
Here's how it works:
You have to register by calling 1.888.450.PARK (7275) or visiting the Verrus website to sign up (click here). You'll have to provide a location number (Fayetteville is 2525) and they'll need to have your credit card on file.
Now you're ready!
To use the system, you'll dial 1.888.450.PARK again, supply the Fayetteville location number (2525), your parking space number, and the number of hours you want to park.
It's free to sign up, but costs 35 cents each time you use the pay-by-phone service.
Think about it. You're at lunch with some girlfriends. The food is great, the gossip is better — and your lunch "hour" is running a little longer than anticipated. With the new phone system, you can receive a text message to remind you before your meter expires! And you can add more time without getting up from the table!
So — what do you think? Is this the best thing to happened to pay parking since you can't remember when? Or is it a waste of 35 cents? What else would you love to be able to do through your cell phone?
Sarah would love to hear from you with questions or feedback regarding gadgets, technology, or blogging. You can also stop by Sarah's personal blog, Musings of Mother Hood to say hello. To read previous installments of Techno Mama, click here!