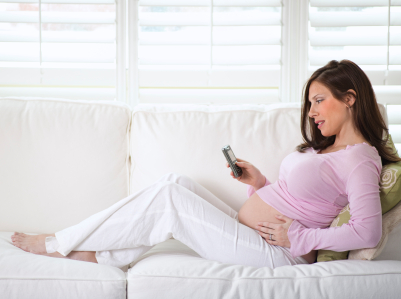 By Sarah Martin Hood
Text4Baby
Back in February, I heard about a program sponsored by AT&T called Text4Baby. This free program provides health tips via text message to expectant mamas.  Here's how it works:
Texts will apply to expecting moms as early as 4 weeks into pregnancy (and on through your child's 1st birthday)
To receive texts, just text BABY to 511411 (BEBE for Spanish-language tips)
After you provide your due-date, the program will begin sending you a weekly text message on health and medical-related guidance relevant to that particular week of your pregnancy
The Text4Baby campaign is the first free, health education program in the U.S. to harness the reach of mobile phones. Currently in the United States more than 500,000 babies – 1 in every 8 – are born prematurely and nearly 900,000 pregnancies experience one or more complications each year. Text4Baby is trying to do their part to maintain healthier pregnancies, healthier moms and healthier babies.
So I signed up in February to give it a try – though I WAS not and AM not pregnant. I provided a due date of June 18 (my little guy's birthday) and waited for my first text. It was tough to put myself back in the shoes of a first-time expecting Mom so I didn't think the first few texts were particularly insightful, but as I received texts over the course of the Spring (up to 3 per week), I began to really enjoy my little reminders — and I wasn't even really pregnant!
The texts reminded me to take prenatal vitamins, to get a flu shot, install a car seat, and think about a birth plan. I even received helpful phone numbers and websites for more specialized information on things like nutrition, breastfeeding, and any pregnancy complications. The texts seemed to get a little more frequent as my "due date" approached and they were more helpful and relevant than ever.
"With delivery near, you may feel excited & happy, anxious & afraid. These feelings are normal! Get support from your partner/family/friends."
"Your due date has passed, but try not to worry. If you can, try to use this time to relax & take care of yourself."
"Are family & friends calling to check on your status? Think about leaving a voicemail message with an update & get some rest!"
I remember feeling those things! – and I think pregnant women everywhere will really enjoy getting friendly little texts throughout their pregnancy. Heck, we rely on our phones for so many things these days — why not a little pregnancy wisdom and advice?!
BabyCenter.com
This is one you may have heard of and may even have used, but I can't say enough good things about Baby Center. It's another free service for pregnancy reminders and advice , but this one is online and via email. Here's how it works:
Visit www.babycenter.com and sign up with your name, due date, and other applicable info
Start receiving weekly emails with developmental information on your growing baby!
The Baby Center website is incredible — offering everything from message boards and groups of other moms with your same due date to hundreds upon hundreds of helpful articles on nutrition (for baby AND you!), registry tips, nursery decor, baby gear safety and recall information — and SO much more. I've been actively using Baby Center for almost three years now and I feel like every time I visit the site – there is something new to read. I don't ever feel like I've exhausted the available information.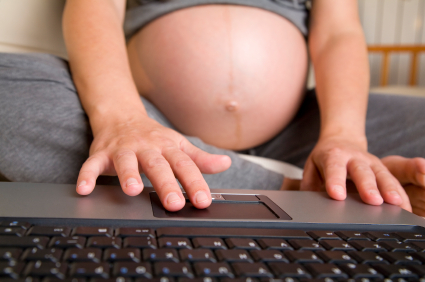 The weekly emails might be my favorite part. When I was pregnant, I would get each weekly email and scour it for any and every little scrap of Baby Center wisdom before forwarding it to my Mom, Mother-in-Law, Hubby, Sisters and Sisters-in-Law.
We LOVED the "how big is your baby this week?" fruit and vegetable comparisons and I read every last word of the "what to expect this week" information. I lived by them!
My kiddo just turned 2 and I still anxiously await my weekly Baby Center email. (I feel the need to warn you that the subject line will start to make your heart race as it transitions from "my BABY this week" to "my TODDLER this week". Ahh! And, apparently, at the 2 year mark they go to "my PRESCHOOLER this week"! My heart can't take it!) I forward them to my husband each week and we talk about the articles and links to things like, Is he ready for a big boy bed? and How to get your child to REALLY eat his vegetables — good stuff.
Baby Center is a great way to stay connected throughout your pregnancy (and between prenatal appointments!) and it grows with your family as the information is available far beyond your little one's arrival. Check it out.
Sarah would love to hear from you with questions or feedback regarding gadgets, technology, or blogging. You can also stop by Sarah's personal blog, Musings of Mother Hood to say hello. To read previous installments of Techno Mama, click here!