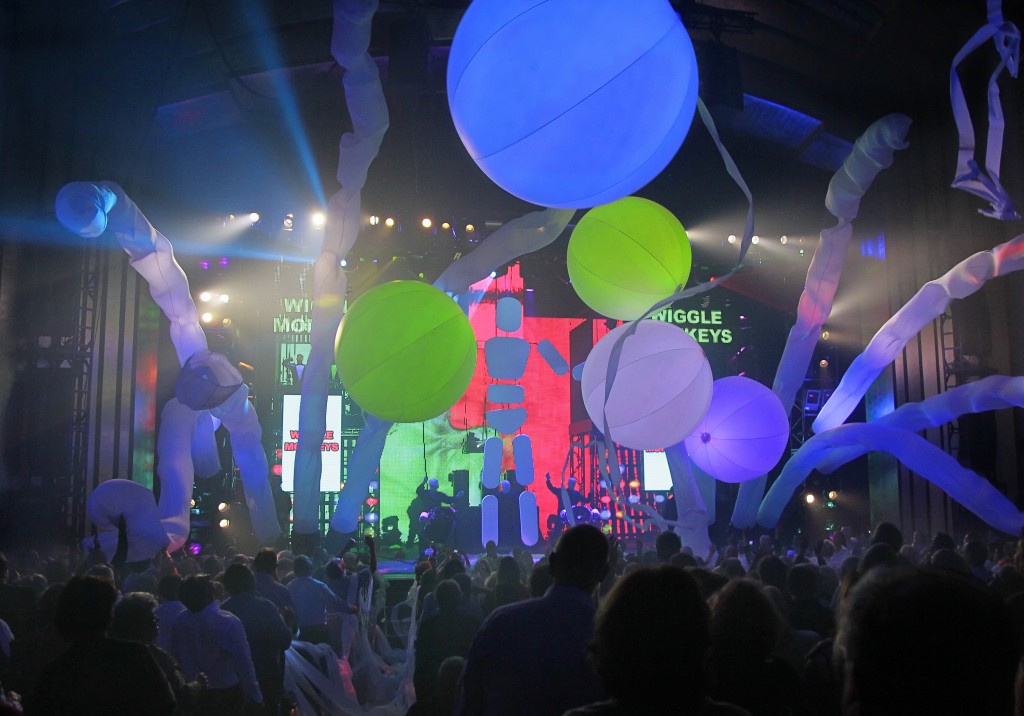 First off, a HUGE thank you to Walton Arts Center for hooking the mamas up with sweet "tweet seat" tickets to Blue Man Group!
We LOVED being able to live tweet and Facebook without being thrown out of the theatre!
Gwen saw Blue Man Group back in September, but I was a complete newbie. The show – with its three bald and beautiful blue men — blew me away. It was a thrilling blend of theatre + music + multimedia + a live audience = party time!
The best part truly is how the Blue Men interact with the crowd. It's not a show just to sit primly and watch. Show-goers get involved! One blonde woman (does anyone know her?) got pulled up on stage to share a dinner of Twinkies with the blue dudes. Her reactions were hilarious.
The show is super silly and funny at times, but it's also really "smart".
That picture at the top? The blue men know that nothing  fires up an audience like tossing them ginormous glowing balls to knock around and rolls and rolls of toilet paper to wrap up in.
A few of the mamas' tweets from the show:
Most of the audience members in the first few rows are wearing ponchos or rain coats! They're prepared for anything!!

#bluemannwa

It's amazing how 3 men with blue faces – and who speak no words – can connect on such a personal level with their audience.

#bluemannwa

Gwen says the blue men taught her boys the phrase "junk in the trunk".

#bluemannwa
There will be seven more performances running through the 15th at Walton Arts Center so there's still time to snag your own tickets. WELL worth the price. (Tickets range from $49-$59 and can be purchased by calling the Walton Arts Center Box Office at 479.443.5600 or by visiting waltonartscenter.org. Student discounts are available.)
Even if you've been to a Blue Man Group show before, this new tour features classic Blue Man moments PLUS  brand new content. I'm not sure what was new and what wasn't, but it was a fabulous mashup!
After the show, the blue men posed for pics with audience members. Below, you can see our very fuzzy shot with a Blue Man. We couldn't get him to smile. He had very expressive eyes, though!