For most of you who have ever bought a crib, changing table, swaddling blanket, glider, stroller or the thousands of other things new babies love, you've most likely heard of our newest sponsor: The Baby's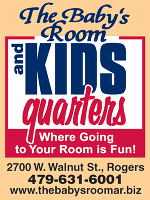 Room. Many of you have probably carted home baby merchandise from the store at one time or another or received shower gifts with a Baby's Room sticker on the package. When I was pregnant with my oldest son 8 years ago, it was one of the first places people advised me to go.
What you may not know is that The Baby's Room doesn't quit when your baby stops being a baby. That's why they created a sister brand called Kids Quarters that grows up with your little one and offers some really cute furniture and accessories when you're ready to create a "big kid" room. My friend Heidi just graduated her 3-year-old daughter from a nursery to a "big girl" room, and she got some beautiful white furniture at Kids Quarters. It's a room fit for a princess.
So we're pleased and proud to have The Baby's Room and Kids Quarters here on Motherlode. We've got some great things planned with them over the coming months. Recently I sat down with owner and fellow mom of 2, Stephanie Adler, and got to know the creative force behind the store that has become a household name with so many local moms and moms-to-be.
How and when did The Baby's Room get started? What made you want to run this kind of store?
The Baby's Room has been in business for 12 years. My husband and I have owned it for nearly 7 years. We bought the business from the previous owner when I was pregnant with our first son. I had recently quit the banking industry and was working part-time because I thought it would be a fun place to work while I was pregnant. When the owner wanted to sell, it was an easy "yes" for us. I wanted to be my own boss, in a fun environment with happy customers.
You have young kids at home. What are the biggest challenges for a mom who is also a business owner?
I used to have a big problem with this issue. It was very difficult to focus on both kiddos at home and a full-time career, as it is for any working mom. Over the years, though, I have trained a wonderful staff whom I totally depend on when I'm "out of the office." I have had to learn to delegate tasks instead of trying to do it all myself. What has worked best for me is dividing my time up. When I'm at the store, I'm totally "at the store." When I'm home, "I am mom." This has allowed me to better focus and organize my time. (By the way, that's Stephanie and her cute family in the photo above.)
What is your favorite part of managing a store like this one?
Reliving the moments of a new pregnant mom and experiencing with the grandparents the joy of a new grandchild makes this the best job there is! It's our pleasure to get to know the expecting mom and her entire family. Our customers often bring their little bundle of joy into the store to meet our wonderful staff.
We receive shipments of new product almost daily. To us, it's like Christmas every day when the UPS driver pulls up to our door. We love to get in the new items – furniture, bedding and comfy chairs.
Who creates those cute window displays we see while we're driving down Walnut Street?
I can't take all the credit for that! It's a group effort. Part of the reason we moved the store from its original 2400 square foot location to its now more than 10,000-square-foot building is that very window! It reminded me of "olden days" window shopping. What a fantastic daily advertisement that few businesses really get a chance to do. I and my management team are always ready to spruce up the window.
Baby products are constantly changing. What are the biggest trends you see in the industry today?
In order to meet all safety standards, the traditional drop-side (non-convertible) crib of the past is on its way out. The traditional "look" is still available but now it has stationary sides. The trend is moving toward the "convertible crib" that grows with the child. Our store is unique in that we also offer the newest "convertible" to a twin size bed. All of our cribs meet and exceed both JPMA and CPSC standards.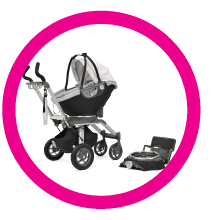 Currently, there's also an increased interest in all types of strollers, most likely triggered by the struggling economy. More people are staying home rather than going out, or they're going somewhere family-friendly and need a great stroller that will last. We've added strollers that accommodate infant and toddler, twins, triplets, jogging moms, etc. We've increased our selection to keep up with the demand we're seeing.
Name one or two items that are selling like crazy right now. Why do you think those items are so hot?
The Orbit Infant System (pictured above) is a big seller these days. Because of that increased demand for strollers, we've found the ultimate, most innovative stroller system on the market. The Orbit Base allows for 360 degrees of rotation, so you can turn the baby any direction you want! It's a "grow-with-baby system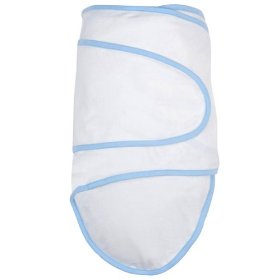 that takes you all the way through the toddler years. (You can check it out at www.orbitbaby.com.)
The Miracle Blanket is also very popular right now. It's a fantastic little swaddling blanket, and customers swear by them and stock up on them to use as gifts. The blanket comes with a 100 percent manufacturer guarantee that the child WILL stay in the swaddle. It costs $36.99.
The Baby's Room and Kids Quarters are located at 2700 W. Walnut Street in Rogers (close to Wendy's and the Supercenter.) If you're looking for something specific or need advice, give them a call at 479-631-6001.  They offer a gift registry that comes with a free portrait setting as well as other cool freebies for moms-to-be. Visit in person or check them out online at www.thebabysroomar.biz.