It was a tough decision but the judges have picked the winners. We're ready to reveal the winners of the Best Nursery/Cutest Kid Room contest sponsored by The Baby's Room & Kids Quarters. Here they are:
FIRST PLACE WINNER:
Katrin Clubine took the title for Best Baby Nursery with some shots of her daughter Hannah's beautiful room. The judges loved the calm colors, elegant furniture and pretty window treatments. And check out the gorgeous chandelier hanging over the center of the room and the letters suspended by pink ribbons on the wall that spell out Hannah's name. Here is a picture of the winning room. Feel free to "oooh" and "aaaaah" along with us.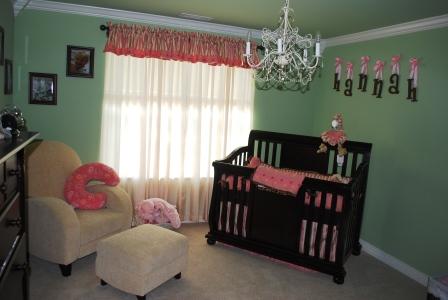 In case you're curious or are planning a nursery for your own baby, this room features Cocoon Furniture and Pine Creek custom bedding. The recliner is by Dutailier.
Katrin's first class room earned her a first-class prize, and she'll be enjoying dinner at soon at the posh Ruth Chris Steakhouse in Rogers. So congrats and bon apetite!
SECOND PLACE:
Second place goes to 9-year-old Taylor Pike for her Rock N Roll Girl's Room. The Pike family converted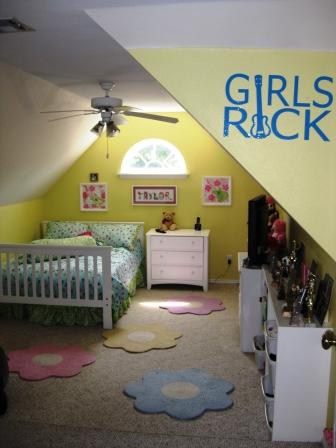 a play room into the rock 'n roll hangout you see pictured here. They transformed built-in shelving into a custom closet space and then added the flower background for the zebra guitar and winged guitar. We especially love the big "Girls Rock" headline splashed across the wall.
They bought custom rainbow/floral guitar bedding with a lime zebra bedskirt and trim and a lime zebra "tootsie roll." A few flower-shaped rugs bloom underfoot, and there's a massage chair in the room so the resident rocker can truly chill out while she watches TV. Taylor's mom, Kim, said the room is "hip and fun, especially for a young girl. It's colorful, upbeat and makes you feel good to be in the room." And the judges agreed! They're sending the Pike family to dinner at Bonefish Grill in Rogers. Congrats, Taylor. We think your room really rocks.
THIRD PLACE: It's a tie!
Josiah McSpadden's nursery and Khloe Yingst's nursery tied for third place. They're completely different looks but both are SO cute! Josiah's mom, Lisa, furnished the room with a Munire crib and a glider by Best Chairs and a soft yellow and blue color combination. The draperies are custom, and the room also includes some beautiful wall photos of Josiah that were taken by his mom, a professional children's photographer and owner of Lisa Mac Photography. Here's Josiah's sweet room: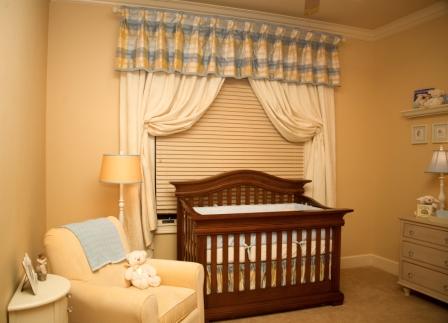 The judges were equally impressed by Khloe Yingst's nursery which features some bright color and a hit of
animal print, too! We love the big shaggy rug on the floor and the contrast of the pink and green. Khloe's mom, Heather, had the bedding custom designed, and her nursery furniture is "April" by Creations.
Both Lisa McSpadden and Heather Yingst will receive a $50 gift certificate to spend at The Baby's Room and Kids Quarters, so have fun shopping, ladies!
Thanks to all of you who submitted photos of your kids' rooms for the contest. It was a lot of fun to see how creative moms can be when it comes to feathering their kid's "nest."
If you need help designing a nursery or kid's room, you can always find inspiration at The Baby's Room and Kids Quarters. The store is full of displays and the staff knows how to help moms and moms-to-be pull together a great looking nursery. Shop in person at the store at 2700 W. Walnut in Rogers or visit them online by clicking here!