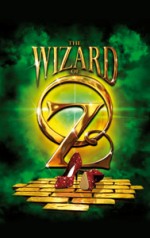 NOTE: We'll choose a winner at random at 4 p.m. Monday, so make sure you get your name in the hat before then! Winner announced Tuesday.

The greatest family musical of all time, THE WIZARD OF OZ, is touching down in theaters across the country with appearances at the Walton Arts Center beginning Tuesday, Jan. 6.
So you'll have the opportunity to travel "Over the Rainbow," we're giving away two tickets to the Jan. 6 show, along with a gift certificate to Jose's Mexican restaurant.
How to enter: Just share your favorite line from the movie, your favorite character or best movie moment in the comments below or e-mail the mamas to let us know you'd like a chance to join Dorothy, Toto and their friends the Cowardly Lion, Tin Man and Scarecrow as they are share adventures in Munchkin Land, the Haunted Forest, and the Emerald City.
This magical production, based on the Royal Shakespeare Company's celebration of the 1939 MGM movie, is presented with breathtaking special effects that will sweep audiences away from the moment the tornado touches down and transports you to a dazzling art deco Oz, complete with munchkins and flying monkeys.
Featuring the classic songs by Harold Arlen and E.Y. Harburg, "Over the Rainbow", "Ding Dong the Witch is Dead" and "Merry Old Land of Oz", along with the beloved characters, The Wizard of Oz will have the entire family captivated as they travel down the yellow brick road for an unforgettable evening at the theater.
The Wizard of Oz is part of the Procter & Gamble Broadway Series and is sponsored by M&M's. Support is provided by Billie and Joe Fred Starr. Walton Arts Center's 2008-09 season sponsor is Wal-Mart/ SAM'S CLUB.
Performance times are Tuesday, Jan. 6 at 7pm., Wednesday, Jan. 7 at 7pm, Thursday, Jan. 8 at 7pm, Friday, Jan. 9 at 8pm, Saturday, Jan. 10 at 2pm & 8pm, and Sunday, Jan. 11 at 2pm and 7pm. Tickets range from $20-$58 and can be purchased by calling Walton Arts Center Box Office at 479-443-5600 or by visiting waltonartscenter.org.