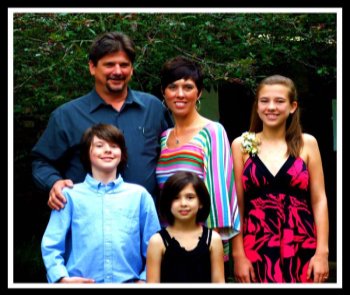 Congratulations to Jody Dilday, winner of the Walton Arts Center South Pacific tickets and dinner at Bordinos.
Jody is mom to three kiddos (the Dilday crew is pictured above): Gracie, 13, Ethan, 11, and Genna, 8. She's also executive director of the Single Parent Scholarship Fund of Northwest Arkansas.
She says of SPSF, "We are a community supported effort creating BETTER, BRIGHTER futures for single parent families by offering ENCOURAGEMENT and ACCESS to higher education. Apply online at www.spsfnwa.org!"
Jody is also a founding member of Womenade NWA, a group of volunteers that raise awareness and support for various causes in NWA like the Glass Slipper Project at Fayetteville High School.
Note from the mamas: If you have any jewelry, purses, shoes or gently worn prom dresses taking up space in your closet, there are girls at FHS who would love to wear them to prom on April 17. The girls will be able to "shop" this Saturday (April 3) so act fast if you have a donation!
In comments, Jody wrote, "Italian food is my hubby's favorite and going to the WAC is my favorite so this would be a perfect date night. I'll spare you the gory details but will simply say the my husband DESERVES a night out!"
Jody said her husband was laid off from his job of 17.5 years in February.
"We've been living on a VERY limited income ever since," she added. "He is in commercial construction and the entire industry is suffering in NWA, so the job prospects have been slim.
"Thankfully, Mark is being called back to his company in April and we can CELEBRATE his new/old job with dinner and a show! Thank you to the Walton Arts Center, Joe Fennel and staff at Bordinos, and NWA Motherlode for this fantastic giveaway!"
We at Motherlode second that, Jody!