Editors' note: Congrats to Slim Chickens one of our website sponsors who recently earned a Mom-Approved Award in the "Best Family Restaurant" category. Get info on all Slims has to offer in today's featured profile.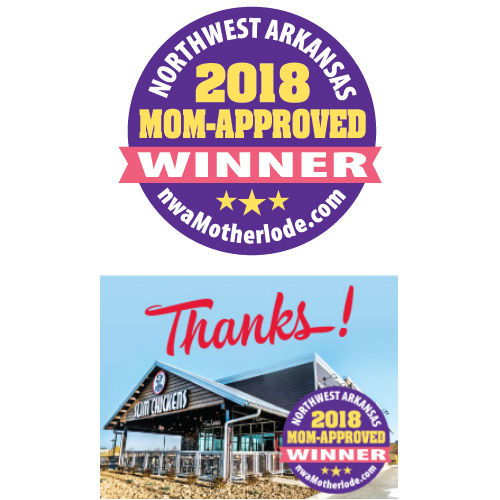 Voted as a 2018 Mom-Approved Award Winner in the
"Best Family Restaurant" category
Winner, winner, chicken dinner: Slim Chickens
Tell us about all your locations:
Since its founding in 2003, Slim Chickens has grown to a total of 75 locations, including international stores in Kuwait and London.
Slim Chickens originated in Fayetteville. We currently have 6 locations right here in NWA, but that number is on the rise. Our newest NWA location is located near the UofA campus on MLK Blvd.
Do all Slims locations in NWA offer Kids Eat Free on Sundays?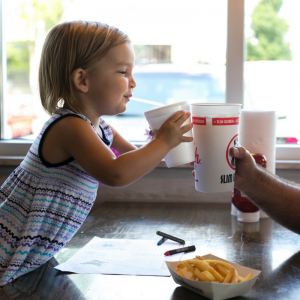 Yes, kids eat free at all Northwest Arkansas locations!
Can you tell us about the founders?
Our founders, Tom Gordon and Greg Smart, started Slim Chickens where most successful business begin — the garage! After a lot of testing, they opened the first ever Slim Chickens restaurant in 2003 in Fayetteville on College Avenue.
What do they always order at Slims?
Greg's go-to order is a Slim's Plate shaken in hot buffalo with fries, Cayenne Ranch and Slim's Sauce. Tom also loves the classic Slim's Plate, but he prefers fries, Honey Mustard, Cayenne Ranch, and our sweet tea!
Can you give us a little hint about where the next one might pop up in the area?
Our next area restaurant will be near the headquarters of the world's largest company! ?
What's the hottest item on your menu right now?
Our 3&3 Plate is one of the hottest items on our menu because it is the best of both worlds. You get to try 3 of our hand-breaded tenders, 3 perfectly fried wings, and two house-made dipping sauces.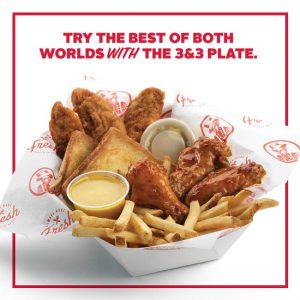 Have you added any new items to the menu recently?
We recently launched the Southern Style Family Meal which is the perfect take-home family dinner  for those crazy week nights. It includes 12 Tenders, 4 House Sauces, 1 side of Ranch Chips, 1 side of Mac & Cheese, Coleslaw or Potato Salad, 4 Texas Toast and a gallon of tea.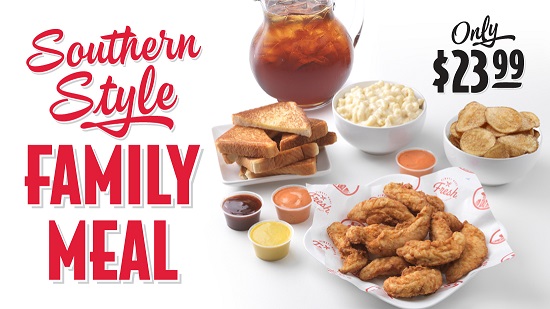 The holidays are coming up! Tell us about your party/catering options:
Nearly all of our menu items are offered in a catering – size allowing for easy party planning! We will even deliver your catering order to save you the hassle of pick up.
What's something we might not know about Slims?
One of Slim's greatest, and tastiest, secrets is the ability to get your tenders tossed in any wing sauce of your choosing!
Congrats to the staff of the various Slim Chickens restaurants across NWA (and beyond!)