Shannon and I started looking for an exercise class late last year so we could get in shape and fit into our swimsuits again this summer. When we started the search, we just wanted to find some type of exercise we didn't hate. (Neither one of us have ever been big fans of working out.) So you can imagine how surprised we both were when we tried Pilates and not only didn't hate it, but actually fell in love with it. This is the FIRST time this has ever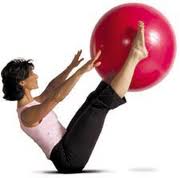 happened for us, and we both feel like looking forward to an exercise class is a huge bonus.
We have been working out a couple of times a week since February at a place called Pilates Plus in Johnson. Here's what we like about it.
Central location — Shannon lives in Fayetteville, and I'm in Rogers so Johnson is a perfect "meet in the middle" kind of place.)
Owner is on site — Hannah Harris owns the studio and is a physical therapist on top of being a  certified Pilates instructor. She works with both kids and adults in her physical therapy practice, which is located right next door to the Pilates studio. We like knowing that she has that added level of knowledge about the human body and the gazillion muscles, ligaments, tendons you have to consider when you're working out, building strength and increasing flexibility.
Huge studio — The studio itself is very open and airy, with high ceilings, a separate room for mat classes as well as a separate area for people who want to try out a pole dancing class. (Hannah says sometimes people have bachelorette parties, birthday parties or just fun "girls night out" parties in the pole dancing room with an instructor who can show you how it's done. 🙂 )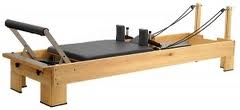 Variety, variety, variety — Boredom is the death of any workout routine. One of the reasons we like Pilates is that it's always different. The instructors mix up the moves so that you're constantly working different muscle groups in new ways. The 50-minute sessions on the Pilates equipment always seem to go by really fast. And when we want something different, there are also mat classes and classes in Yoga, Zumba and Hot Pilates, which burns extra calories because you're working out in a therapeutically heated room.
Certified instructors — Teachers who really know what they're doing is a MUST. All the instructors here are certified and have experience. Click here to read about the training background of each of the instructors who work at the studio.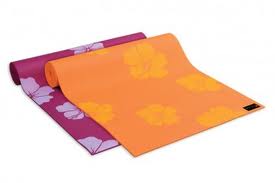 Classes for moms with babies — Sometimes new moms feel like they can't go exercise because they're not comfortable leaving their infant in childcare and don't have a sitter or grandma to watch them. So the Pilates Mommy & Me classes are perfect because your baby is part of the work-out, and the instructor helps you strengthen your abdominals and pelvic floor. (Equipment and mats are all provided or you can bring your own, if you like.)
Classes for kids — With childhood weight becoming a big issue in many families, it's important for kids to make exercise a part of their lives at an early age. The Pilates for Kids classes at this studio are taught by a pediatric physical therapist.
Childcare available for some classes — If you need childcare, you can bring your kids with you to the studio and a sitter will be on site to watch them while you work out. Cost is $3 per child per hour from 5 to 8 p.m. for the evening classes.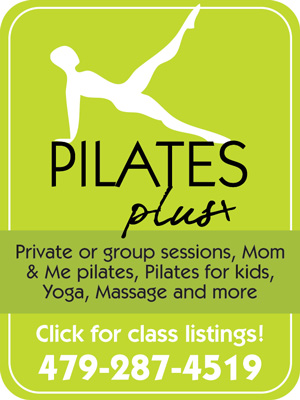 Online sign-up access — If your schedule is hectic and constantly changing, you can take advantage of the online sign-up program that lets you sign up for classes or personal training sessions as they fit into your schedule. Click here to check out the online sign-up tool.
Results — More than anything else, it's the results that keep us coming back to any type of exercise class. Shannon and I have been doing Pilates since February, and we're noticing that we are gaining a lot more strength than we had before and our abdomen, legs and arms are really starting to tone up.  We're on our way to having "Pilates bodies"! Woo-hoo! And we finally feel like we're doing something really good for our bodies that we can continue to do for years to come.
Another fun bonus is that we've been meeting some new friends at Pilates Plus. There's something about a group work-out that breaks the ice and helps you bond with other women. Even if you don't have a workout buddy, you should come to a class because you'll probably meet one in no time.
If this is the year you're finally going to find an exercise you like and stick with it, you should definitely check this place out. You can click HERE to read more about the studio online or, better yet, just call Hannah and talk to her and ask your questions. The number is 479-287-4519.