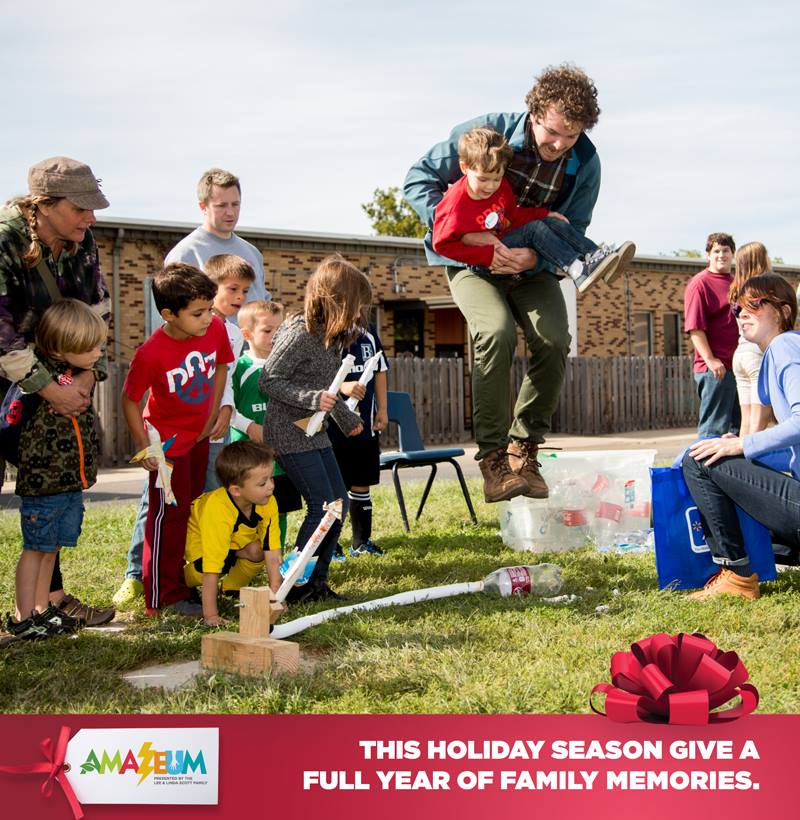 The Amazeum is a new museum in Northwest Arkansas (opening in 2015) for children and families.
Charter memberships went on sale recently and there are lots of benefits. A membership would make an awesome Christmas gift. Here's what you'll receive with a charter membership: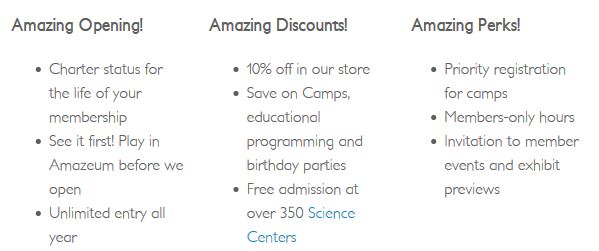 Everything in the museum will be hands-on for maximum interaction. We asked the Amazeum staff a few questions so you'll know more about what's up at this fabulous 44,500-square foot wonder:
Q: When is the Amazeum scheduled to open?
The Amazeum is scheduled to open the second half of 2015.
Q: Can you tell us about charter memberships? How much do they cost?
A charter member is an original member of an organization. Everyone who purchases a membership before or during our opening year will be considered an Amazeum charter member. For those charter members who purchase between now and April 2015, there are extra special opportunities to enjoy prior to opening. (Those benefits are outlined below.) There are several levels of memberships, beginning at $95 for a family of four.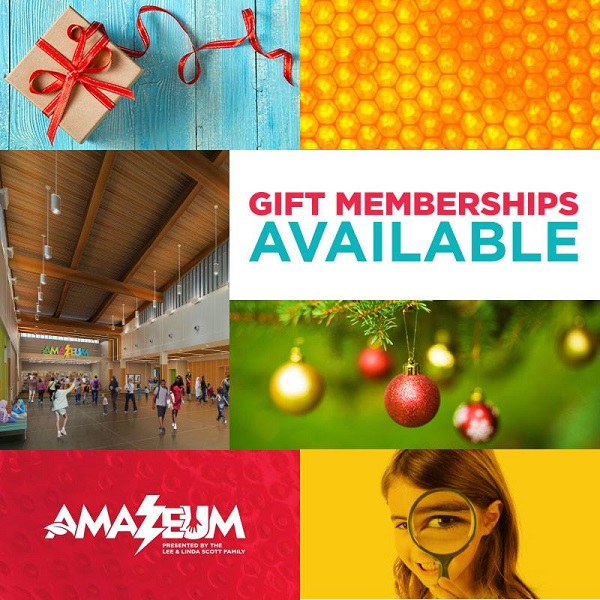 Q: What are the benefits of being a charter member?
A charter membership represents an opportunity to be at the forefront of something that will amaze, inspire and educate children in our region for generations to come. These exclusive memberships will allow holders to enjoy museum access before it opens to the public.
As long as they renew each year, those who purchase memberships now will be recognized as charter members for the life of their membership.
In addition to charter member benefits, all members enjoy unlimited admission all year, discounts on birthday parties, advance notice and early camp registration, special members-only hours, 10 percent store discount, special pricing for educational programs and camps, free or discounted admission to more than 550 science and children's museums across the country, and invitation to members-only events and exhibit previews.
The museum is also offering contributing memberships to those who would like to support the museum's annual fund along with their membership gift. Full details of membership levels are available at www.amazeum.org/.
Q: Where can we buy a membership?
Memberships can be purchased online at Amazeum.org, by calling 479-696-9280 x 202 or emailing membership@amazeum.org.
Q: Can we buy gift memberships?
Absolutely!  These make a great gift that the whole family will enjoy.  When you are purchasing a membership, you are prompted to indicate if it is a gift membership and if you'd like to receive the information or if you'd like us to send it straight to the recipient. If it's a surprise, we'll help you keep it that way!
Q: Who can be included in a Family Membership?
Our memberships are designed so that you can include any combination of grandparents, parents and kids.
Q: What age range is the Amazeum best suited for?
The Amazeum exhibits are designed to promote imagination and creative thinking for children and families of all ages. There will be two spaces dedicated for toddlers. The majority of the spaces are designed with children ages 4 to 8 in mind.
Innovation Alley is a series of learning spaces – including the Tinkering Studio, the Art Studio and The Hershey Lab – that offer deeper learning opportunities to be enjoyed by older elementary- and middle school-age students.
The Amazeum will also appeal to audiences other than young children and families. It will feature meeting spaces for businesses and organizations in the region, as well as spaces for corporate team-building exercises that encourage creativity and collaboration. For educators, the Amazeum will offer a variety of professional development workshops.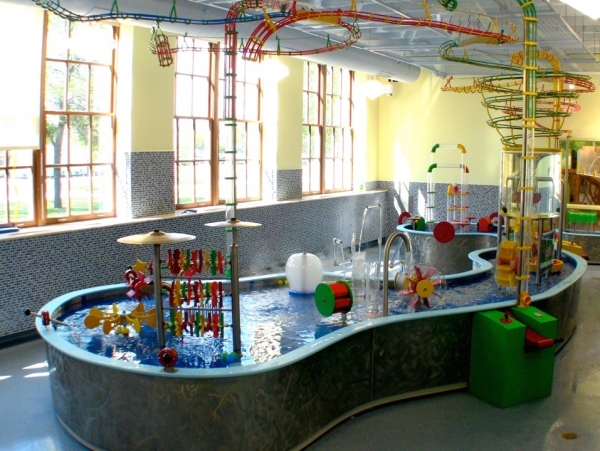 Q: We hear kids can have birthday parties there. Tell us about that!
Yes, the Amazeum would love to host your child's birthday party! Party packages will be available when we open. Also, charter members receive discounts on birthday parties. (See above for more details on charter memberships.)
Q: Can you tell us about some of the exhibits/experiences we'll find at the Amazeum?
You can expect a lot of laughter and active play!
Currently under construction, the first permanent exhibition that has been announced is General Mills Lift, Load & Haul, which focuses on kinetic activity and transferring things from one place to another. The exhibit will allow kids to explore how things work on their own terms while experiencing basic principles of physics, engineering, logistics and problem solving. The multi-faceted exhibition allows kids to roll up their sleeves and work on their own or in cooperation with someone else to lift, move, load and ready a truck for transport.
One of the first things visitors will notice upon approaching this exhibit is the large, accessible cab of a truck inviting them to climb in and pretend to drive. The exhibit is built around an actual truck cab, donated by Walmart Fleet Services.
Other experiences at the Amazeum will include a tinkering studio, climbable tree canopy, indoor caves, an art studio and more. Exhibitions will extend to the museum grounds where approximately one acre of land will provide the background for more learning and fun. The Amazeum will also feature indoor and outdoor event space. For additional details about exhibits as they are finalized, visit http://www.amazeum.org.
Q: Will there be a place to grab snacks?
The Amazeum will offer a café, where you can expect to find a variety of quick and healthy food options.
Q: How long has the Amazeum been on the horizon?
The Amazeum has been a long labor of love. In June 2006, supporters obtained 501c3 nonprofit status, and in November of that year organized and announced the founding board. Currently construction is in full swing, and progress at the site can be viewed in real time on our construction webcam.
Q: Why is it important for kids to visit places like the Amazeum?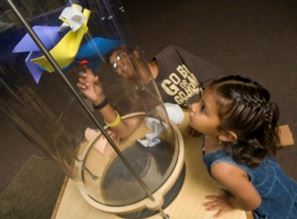 Research continues to tell us about the growth and development of our children. From birth to age three, social, emotional and intellectual aspects of a child form. From ages three to five, children are like sponges exploring, absorbing and organizing information about the world around them.
Through this early development, children expand their social, sensory, conceptual, language, gross and fine motor skills, and problem-solving abilities. We have come to understand each child is a unique individual who needs a secure, caring and stimulating atmosphere in which to grow and mature emotionally, intellectually, physically and socially.
In our fast-paced, complicated society where raising a child needs all the positive support possible, the Amazeum will create a haven that stimulates exploration and imagination, cultivates the grasp of information at a pace that suits each child individually, and inspires a love of learning from the beginning.
The Amazeum creates a fun environment where risk taking, imagining, problem solving, discovery, collaboration and exploration bring children and adults together to learn and grow.