Review of The Bookish Life of Nina Hill by Abbi Waxman
Happy Wednesday, mamas! Here's an update on what we're reading lately.
I (Gwen) am extra lucky because I have my own personal reading recommendation machine. Shannon (who reads more than any other human I know) sends me text messages now and then with a photo of the cover of the book she's currently reading. But she only sends the picture if she's loving the book and thinks I would, too. And she has NEVER been wrong. Not even once.
Thanks to her, I got hooked on Nora Roberts' novels (like Under Currents and Shelter in Place). She also introduced me to the masterful Liane Moriarty who wrote Big Little Lies and The Husband's Secret. I also laughed out loud (and sometimes cried) while reading other Shannon picks including How Hard Can It Be? by Allison Pearson and Do This for Me by Eliza Kennedy. She also convinced me to read Where'd You Go, Bernadette by Maria Semple,  Maybe You Should Talk to Someone by Lori Gottlieb, and The Storied Life of A.J. Fikry by Gabrielle Zevin. They were all great books that kept me up reading way past a respectable bedtime.
So after 11 years of never steering me wrong on a book recommendation, I'm always looking for Shannon's next text message with a book cover photo. I don't even bother reading the book sample anymore. If she likes it, I just go ahead and download the book and start reading because I know it'll be good. That's what I did when she sent me a picture of the cover of The Bookish Life of Nina Hill by Abbi Waxman.
My favorite thing about this book is how hilarious the narrator is. Even though the story is told in third-person point-of-view, the narrator's voice is so much like the main character, Nina, that it reads a lot like a first-person novel. This is the opposite of a stiff, formal book. It's like climbing inside the brain of a funny, fascinating friend.
Scattered throughout the book are copies of pages from Nina's planner. (She LOVES her planner.) Even the planner pages are hilarious and oh-so-familiar for so many of us. I quickly got caught up in Nina's life. She's an only child who never knew who her father was and barely saw her mother, having grown up mainly with a nanny. Nina works in a bookstore and loves books more than pretty much anything else. She also plays on a trivia team, runs book clubs, works on her planner, takes care of her cat named Phil, and tries hard not to be attracted to a cute guy on a rival trivia team.
When Nina finds out that the father she never knew has died and left something to her in his will, she has to deal with a LOT of new family members she didn't even realize she had. All these new experiences force Nina to come out of her shell, deal with a pretty severe case of anxiety, and decide what kind of life she wants.
So will you, too, like this book as much as Shannon and I did? I think you will, especially if you are someone who understands and/or likes any of the following things: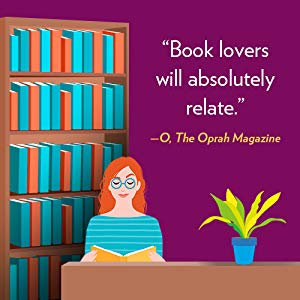 books
cute guy
awkward flirting
non-cheesy romance
funny, quirky friends
cats
planners
organization
introverts
trivia
book clubs
great endings
If any of those things ring a bell for you, get the book. I liked it so much that I've already started reading another one of Abbi Waxman's novels, The Garden of Small Beginnings, which Shannon says I will also love (because she did, too). I'm only a few chapters in, and I'm already hooked.
Hope these recommendations keep you happily turning pages this winter! Post a comment and let us know what you're reading lately.