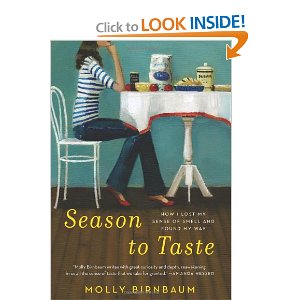 By Shannon Magsam, nwaMotherlode mama
If you love to cook and love a great memoir, you should find a copy of the new book Season to Taste: How I Lost My Sense of Smell and Found My Way by Molly Birnbaum.
Molly also writes the popular food blog My Madeleine.
Molly was an aspiring chef — about to head off the prestigious Culinary Institute of America — when a horrible accident left her body broken and a destroyed her sense of smell. It's a well-written read and her research into the science of smell is really fascinating. It definitely made me appreciate my complex ability to smell and to enjoy the taste of food.
I love how Molly picked herself up and immersed herself in research all over the world to not only understand what happened to her sense of smell — but to know herself better. I was cheering her on the whole book.
There are several cooking memoirs that are also on my list to try. They are:
Tender at the Bone: Growing up at the Table by Ruth Reichl (I gobbled up the first chapter while standing in the bookstore the other day).
A Homemade Life: Stories and Recipes from My Kitchen Table by Molly Wizenberg (she blogs at Orangette). Molly is working on a second book tentatively titled Delancey, which is the name of the restaurant she and her husband opened together in Seattle. In an interview on Amazon.com, Molly was asked to list three items in her refrigerator and their significance. She said:
Peanut butter–it's not glamorous, but I could eat it every day. I'm pretty sure my body is at least 75 percent peanut butter.
Maple syrup–this particular jug of syrup was given to me by one of my readers. It came from her trees in upstate New York, and it's fantastic. I don't think there could possibly be a better present than maple syrup from your very own trees.
Apples from the farmers' market–one of the best parts of living in Washington! There's one stand in particular that has lots of heirloom apples, and they have the best names. Right now, I've got a couple of Black Twigs, one Gold Rush, and a couple of Waltanas.
I'm also curious about the book Cooking for Gracie: The Making of a Parent from Scratch  a memoir of fatherhood by Keith Dixon. It keeps popping up when I'm searching for good reads.
And if you prefer fiction over memoir, I'm planning to read How to Bake a Perfect Life by Barbara O'Neal.
What are you reading right now?