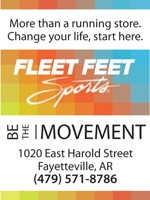 The day Gwen and I went into Fleet Feet Sports in Fayetteville, we were surprised to see shoppers who represented every fitness level.
"We're not just a running store," explained owner Andrea Gunnell. "We have customers who are just starting out on their journey to be fit up to those who run marathons. We're often the starting point for people who want to change their lives."
"We have a FITLOSOPHY as we like to call it, which is our approach to everything we do. Our process begins by ensuring that runners and walkers of all abilities (and ages) are fit with the proper footwear, sports bras and technical apparel to meet their individual needs."
Andrea and Fleet Feet marketing expert Tracy Byrd have seen so many of their customers start out small, just getting some good walking shoes, and then moving on to more challenging activities. Andrea said moms have started realizing that taking the time to exercise is not selfish. You can't run and play with your kids if you get winded immediately.
We asked why she thinks so many women have taken up running.
Tracy said, "Running gives you a sense of accomplishment and it's easy and inexpensive. You can just pull on your shoes and just go.
"I think they also feel like they're doing so much for everyone else, but running is mine."
If you're interested in joining the running movement, Fleet Feet Fayetteville will help ease you into the sport. They have training programs including one designed to help you get ready for your first 5K. You'll have a support network around you to keep you on track. CLICK HERE to read more about their training programs.
CLICK HERE for a list of local races on the Fleet Feet Fayetteville website.
+++
"Are you having any pain?" is one of the first questions they ask men and women who are new to Fleet Feet. The employees are feet experts and can find the best shoe for your individual walking pattern. In fact, there's a runway on one side of the store so employees can watch you walk and determine what shoe might work best for you. I talked Gwen into being the runway model, so she kicked off her shoes, rolled up her jeans and took a few turns on the catwalk. She was surprised by their biomechanics assessment.
The Fleet Feet Sports Fayetteville team measures your foot, considers your foot type and — like they did with Gwen — watches the way you walk. They want to help you decide which shoes — or apparel — meet your particular needs based on your activity level. Some of their customers don't work out, but they're on their feet all day and have pain. Having the right footwear enhances your ability and prevents injury.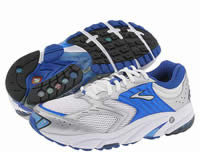 As we took a tour of the store with Andrea and Tracy, we saw that it's literally packed with everything you might need to be more comfortable while getting fit, from hard-to-find insoles to supportive sport bras to cute yoga outfits that we couldn't resist. We liked that you could wear some of the clothes straight from exercising to the grocery store or lunch.
They also demonstrated some awesome gloves for cold-weather fitness. We really loved the Saucony Ulti Mitt gloves which are actually two gloves in one and if you get hot,  you can peel one layer back. One of the gloves has an LED light and there's also a spot to tuck money or a cell phone.
Other products they carry:
electrolyte drink mixes and food
pepper spray
heart rate monitors
gps units
ear buds that can be adjusted for fit
kids' shoes
hard-to-find compression products
youth clothes
adult clothes
The bottom line: Fleet Feet Sports Fayetteville is committed to providing each customer who runs or walks through their doors the ultimate customer service experience. You will find:
Individual service and attention;
A highly knowledgeable, trained staff;
A mix of shoes, apparel and accessories designed specifically for running and walking which offer the best balance of value and performance; and
A family-friendly environment