A local nine-woman book club called Just Girls Having Fun shared their most recent book list with us. This month the ladies are reading Little Bee by Chris Cleave. Check this one out or any on their list!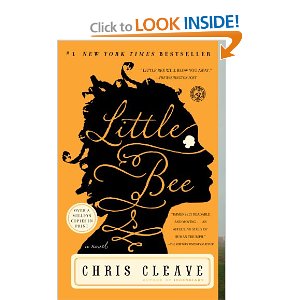 August: The Girl With the Dragon Tattoo by Stieg Larsson
September: Life As We Knew It by Susan Beth Pfeffer
October: Mockingjay by Suzanne Collins
November: Water for Elephants by Sara Gruen
December: The Next Thing On My List by Jill Smolinsky
January: Little Bee by Chris Cleave
February: Hotel on the Corner of Bitter and Sweet by Jamie Ford
About this book club from co-creator Cara: We meet once a month, with a break in the summer. We always do food and drink, and occasionally we relate it to the book we're reading. We used to do that more often…. we'd sort of have a theme for our food. Or if the characters in the book talked about a certain food, we'd serve that food. Mary Kay Andrews puts recipes in her books a lot, so if we read one of her books, we might make one of her recipes. Food and drink is a big focus of the meetings. We each bring an appetizer, a dessert, or a bottle of wine. One of the husbands teases us and calls it "Food Club" and we've also referred to it as "Wine Club" (jokingly). Each year we have a Christmas PJ party with a gift exchange and games, doorprizes, etc…
We've also done a phone call with an author on speakerphone, and that was fun and interesting.
We do spend a lot of time eating and talking, but we have a moderator (Shellie) who keeps us on track so that we'll have time to actually talk about the book. Normally Shellie or myself will lead the discussion, just because we're the ones who started the club. But it's not really very structured.
Our motto is: "What happens in Book Club… STAYS in Book Club!" and we all know we can talk about anything and everything. And we laugh A LOT.
Thanks for sharing with us, ladies! Sounds like a fun group. And for those of you out there who are reading this, send in your book club's picks if you'd like the titles — and info about your group — to be featured on Motherlode!
"What We're Reading" is sponsored by Witherspoon Optometry, owned by Dr. David Witherspoon and Dr. DeAnne Witherspoon. Their practice is located at 5212 Village Parkway in the Village on the Creeks plaza in Rogers. You may also call 479-464-9702 to ask questions or schedule an appointment. Click here to visit them online.