Northwest Arkansas native Heather Williams is on her way to Bordinos tonight for a wonderful dinner, then on to Walton Arts Center to see the Drowsy Chaperone with her husband!
Remember, she was the one who asked the DJ to play Michael Jackson's "The Way You Make Me Feel" as she and her husband were walking down the aisle after they were pronounced husband and wife. Too cute.
Heather, who has a 2-year-old son, said she hasn't been on a date with that man she married in, oh, … about a year? She can't quite remember.
"Our son goes everywhere with us," she said. "Winning this is such a treat! I'm so excited about it."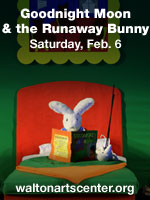 Prairie Grove mom Sara Little won the four tickets to see the double-bill adaptation of the beloved bedtime classics Goodnight Moon and Runaway Bunny on Saturday, Feb. 6, and dinner at Flying Burrito.

Sara has two daughters, 22-month-old Myra and 4-year-old Lara, so this show is perfect for her family. She's a native of Springdale and has lived there most of her life, except for a few years of college and her husband Larry's military duty. Sara teaches piano lessons at home.
"We love being together as a family of 4, and we enjoy time with our extended family," she said. "Some of our favorite activities are walks through the neighborhood, playing at the park, fishing, and just hanging around the house laughing and playing together."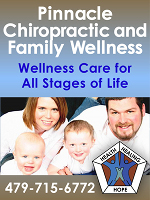 Lindsey Pulley was the lucky mama to win lunch and six months' worth of massages at Pinnacle Chiropractic and Family Wellness! Lindsey's the one who commented about having a pinched nerve, not to mention a 3-year-old and an 8-month-old, so she was thrilled to be randomly chosen for this wonderfully generous giveaway from Dr. Kelley Hensley at Pinnacle Chiropractic.
Lindsey said when she read the email about her good fortune, she was stunned. She quickly recovered.
"I did a little happy dance around the living room and my daughter thought it was the funniest thing in the world!" she said.
Lindsey and her husband, Patrick, were both marching Razorbacks at the University of Arkansas. Today, they're still surrounded by college kids. Patrick is the full-time college ministry directory for Missionary Baptist Student Fellowship. They have many built-in babysitters 🙂
Congratulations to all three of these mamas! And thanks again to Walton Arts Center for all the wonderful giveaways and to Pinnacle Chiropractic for such a jaw-dropping opportunity.