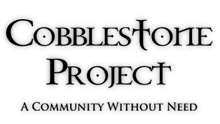 We know you don't have tons of extra time, but sometimes helping others puts our problems in perspective and blesses us as much as it does the one receiving! A great local nonprofit which has plenty of volunteer opportunities is The Cobblestone Project. We wanted to shine a spotlight on this great nonprofit.
It was founded in April 2008 by a small group of NWA families who were committed to putting their faith into action with the hope of making a meaningful difference in their community.
We love the dream of the Cobblestone Project which is to work toward "A Community Without Need."
Amber reminded us of this awesome group when she wrote on her blog about spring planting at The Farm, which is designed to use agriculture to help the under-resourced in our community by focusing on: Hunger Relief, Education, Economic Development, Community, Food Production and Sustainability.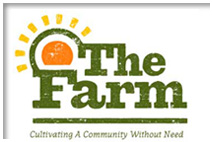 If you want to help plant spring crops here's the scoop:
During the month of March there will be opportunities every Saturday from 10 a.m. – 2 p.m. (bring a lunch and something to drink). In April, Saturday service days will start at 9 a.m. and go until 1 p.m.
Farm Location:  5298-5526 W Wedington Dr
They have other events going on, but we also thought their Laundry Love program was awesome. They have a Laundry Love Rogers event coming up on April 1.
About Laundry Love: For those living below the poverty line, washing clothes presents both a logistical problem and a financial hardship. Laundry Love Project™ (LLP) was birthed by Just One during  a conversation with a  homeless friend who conveyed this basic need.
Laundry Love Projects partner with local laundromats in cleaning the clothes of those living in shelters, motels, cars, garages and on the streets. It's their mission to take laundromats and convert them into hubs of relief, granting reprieve to those living in oppressive poverty. They have volunteer opportunities with this project and others, too!
Thanks for listening, mamas. Just wanted to let you know about this great organization and share some of the good things going on there.