Editors' note: Congrats to Erica Erck Photography one of our website sponsors who recently earned a Mom-Approved Award in the "Best Family Photographer" category. Get info on all Erica has to offer in today's featured profile.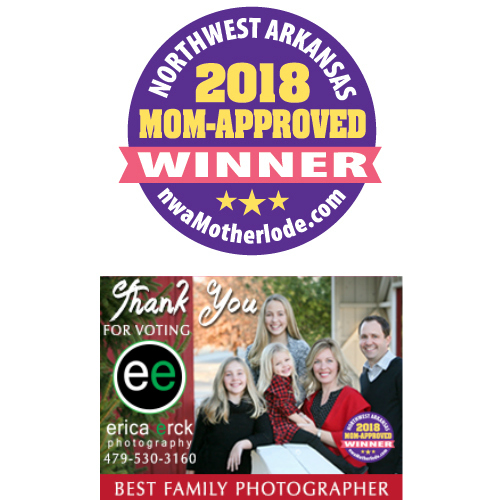 Voted as a 2018 Mom-Approved Award Winner in the
"Best Family Photographer " category
Winner: Erica Erck Photograph
How to connect with Erica: ericaerckphoto@gmail.com or 479-530-3160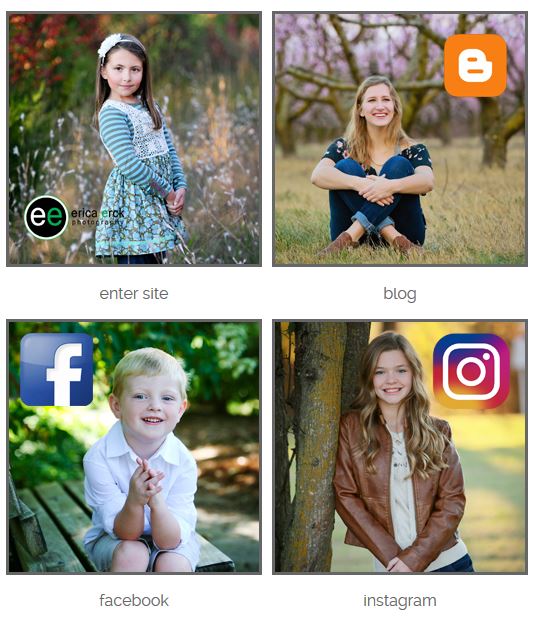 Tell us about your family:
We have a very active family who loves to be involved in our church, school and many sports teams! We have 3 children in elementary, junior high and high school now which keeps us on the MOVE and easily makes me a part time logistics manager!
Our kids are into dance, gymnastics, volleyball, basketball and football to name a few. We also enjoy the outdoors and taking time to just sit around a fire on our back porch and play cards.
What is Erica Erck Photography known for?
I would say that EEP is an experienced and professional family/children photographer who captures families in the natural light outdoors and and creates images that show personality and connection.
I hope that my clients say EEP is easy to work with, makes the process streamline and creates lasting memories they enjoy for years to come. I also seek to form relationships that bring them back time and time again.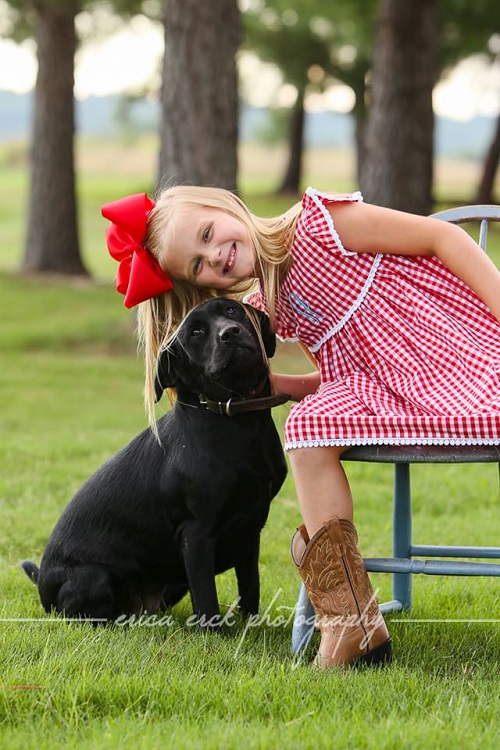 How did you get you started in photography?
I have always loved the "creative" side of things and first thought I would work in a big advertising agency designing logos for companies.  But, as life happened with first jobs, getting married and starting a family, I quickly saw a desk/office job was just not the right fit for me and the life I wanted.
So after 10 years of working in other jobs, a fellow friend/photographer found me when I was home with my firstborn on maternity leave. She asked if I would help her with the office side of her growing photography business and a few weeks in she had me shooting at a wedding with a digital camera that I wasn't sure how to even turn on!
Turns out, Tamara Lackey is a world-wide known photographer, author, speaker and spokesperson for several professional camera and photography-related companies.  And way back when, she saw something in me and trained me in her techniques of photography with natural light, in post production editing and how to run a custom, service oriented photography business.
After two years under her wing, she set me out on my own to fly! And that was 14 years ago…and I'm still going thanks to her belief in me.
How long have you been a professional photographer?
I started in Chapel Hill, NC with Tamara Lackey Photography in 2004. I started Erica Erck Photography in Nashville, TN in 2006.
What photo services do you offer?
I would say my bread and butter is Family and Children.  But I also have a growing business in dance studios and sports teams, as well as businesses who want to put their best foot forward with professional website photos and promotional materials.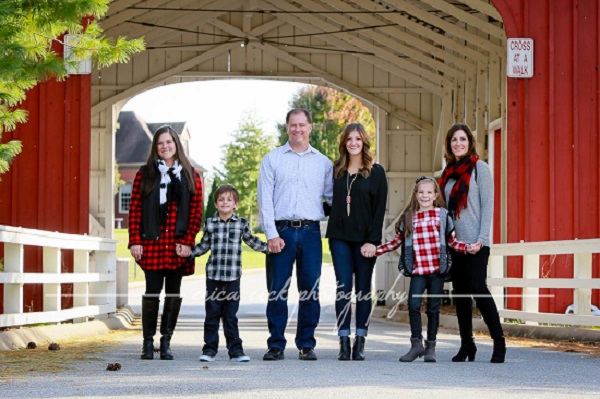 What was the funniest photo shoot you can recall?
While I was in Nashville, TN I had 4 day catalog shoot for a start-up company that I photographed twice a year for their fall and spring line of personalize bags and gifts.  The company, Initials Inc., was owned by two sisters and the photo shoots were always a blast with models holding their stylish purses, backpacks, water bottles and anything you can put your initials on!
We were shooting the spring line in the winter (because that is how the retail business works) and so we had all these handbags "posed" in a field with flowers on a table — everything was perfect. I was taking different angles of the set up when I noticed a man walking his dog without a leash pass by us.

The dog decided to come over to the handbags and sniff (which we were shocked the owner was letting him do) and then the dog hiked his leg and peed ALL OVER the set!!!  Mind you, these were the only samples we had for the catalog — and so, funny or not, it was a very memorable shoot!
Are you taking new clients right now?
Yes, I am always excited to meet new clients!
My fall is usually the busiest season of the year (October/November) for holiday cards and gifts and these dates start to fill up in late summer. My next busiest season is the Spring (April/May) and these dates start to fill up before Spring Break. Contact me know several weeks in advance and let me know what you are wanting to do and we can work together to find a time that our schedules match up! A large part of my job is logistics — and that includes the weather!!
Testimonials from local moms/businesses:
"We love this photographer. My children love getting their pictures taken by Erica. She always does an excellent job during the whole process. From start to finish we are always so pleased. These are memories that we will cherish forever and we wouldn't trust anyone but Erica. Her work is amazing and fits into your home so well….." — Hadley Tyler Williams
"I recently used Erica Erck's Photography for a business function. This was the first time I used Erica and she had come highly recommended by a friend. Erica was very responsive in my original request, she was on time and captured everything i asked of her and more! The pictures turned out nicely and we received many compliments! I will definitely use Erica Erck Photography again!"  – Christine Halverson
"I recently used Erica for my 8 year olds first communion pictures and she did an amazing job!! 8 year old boys are not easy to keep still and get them to smile in the right direction but she kept his attention and got some of the best pictures!! We will 100% be using her again for some family pics and would highly recommend her!!"  — Pattie Bowman