Attention Moms! We have winners! Ashdon Downey is on her way to see Strega Nona right now. Reader Amy Brown won tickets to see Peter and the Wolf and Jerri was the lucky winner of the Nutcracker tix! Congratulations.
It's all about kids, kids, kids at the Walton Arts Center in November, and they've got shows, shows and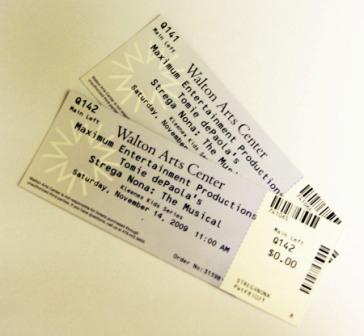 more shows to prove it. There are so many kids' shows, in fact, that we're going to do a BIG ticket giveaway today that includes pizza from U.S. Pizza on Dickson Street and 4 tickets to each of the THREE different kids' shows at Walton Arts Center. Three winners will be chosen, and each of those moms will get 4 tickets!
Strega Nona on November 14th
Peter and the Wolf on November 21st
The Nutcracker on November 27th

We're pairing each set of show tickets with lunch or dinner at one of our favorite pizza places — U.S.

Pizza on Dickson Street. The food is awesome, and most people already know that. But did you know that they have a very kid-friendly basement with activities for kids to do while they wait for their dinner to slide out of the pizza oven? We LOVE when a restaurant makes it easier for mamas to take the kids out to dinner. It's a smart business move that keeps us and families coming back. Click HERE to see the U.S. Pizza menu. (They have awesome salads, too!)
To throw your name in the hat to win pizza and tickets to any of these three shows, simply click the "comment" button below and tell us which of the shows you and your kid or kids would most like to see. (You can also enter by e-mail by sending a note to giveaways@nwaMotherlode.com.)
If you'd be thrilled to go to any of these shows, tell us that, too! We'll choose three winners' names out of the hat on this Friday, November 13th. This is a QUICK giveaway, so throw your name in the hat now and tell your buddies about it asap. It'll be over soon.
Here are descriptions of the upcoming kids' shows at Walton Arts Center this month: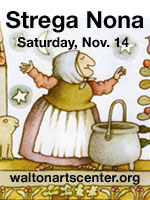 Strega Nona: This is a musical that combines three popular children's books — Strega Nona, Strega Nona Her Story and Big Anthony and the Magic Ring.  The stage is designed to look like the pages of a pop-up book.  The story is about a magical Italian grandmother and her mischievous apprentice. Strega Nona is looking for someone to help her with her chores, and Big Anthony responds to her ad. She has him do various chores around her house, but she warns him not to touch her magic pasta pot, an enchanted pot that produces pasta at the command of a spell. (In Italian, the word "strega" means witch, and the word "nona" means grandma.)
As he is doing his chores, Anthony spies on Strega Nona conjuring pasta from the pot. He watches  as she commands the pot to stop producing pasta. But he doesn't see that she blows three kisses after commanding the pasta pot to stop making pasta. When Strega Nona is away one day, Big Anthony tries his hand at the magic pot so he can serve everyone pasta, but he can't make it stop and ends up flooding the town with noodles. Strega Nona has to come back and save the day.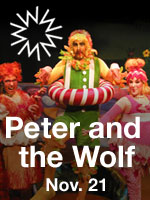 Peter and the Wolf: Best for ages 5 to 9, this is a story about a cat, a duck and a bird who join Peter and his grandfather to outsmart a wolf. This story was written in 1936 as a music symphony for children. Each character in the play is represented by a certain instrument. The flute represents the bird. The clarinet is the cat, and the oboe represents the duck.
This show will last about one hour and will be followed by a Q&A session with the cast! (Might be perfect if your kid LOVES to ask "why" and get more info about what he or she has seen.)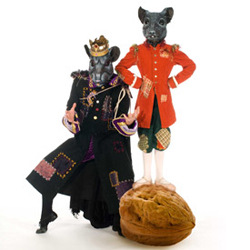 The Nutcracker: Who doesn't love The Nutcracker? It has become as traditional as Santa Claus himself. This beautiful production includes more than 60 dancers, actors and circus artists, and the stage sets are incredible. Many families make a point to see this production every year before the holidays, and I know several mother-daughter duos who never miss the performance of this fairy-tale ballet.
The story of The Nutcracker revolves around a German girl named Clara and her family. Her grandfather shows up at a party with Christmas presents for the children, and Clara receives a toy nutcracker. Her brother is jealous and breaks it, but the grandfather fixes it. After the kids go to bed, Clara hears a sound and investigates. The nutcracker comes to life and turns into a prince, so Clara and the Prince go an adventure that leads them to the land of those famous, dancing sugar plum fairies.
There will be four showings of The Nutcracker this year. Click here to see the show dates and times. Prices start at $28.50 per ticket, so this giveaway is a BIG value because you'd be winning well over $100 worth of tickets alone, not to mention the pizza!
HOW TO INCREASE YOUR ODDS OF WINNING: As always, we reward mamas who help us spread the word about our cool giveaways. If you send an e-mail to your fellow mamas and friends/family about this giveaway, we'll give you an extra chance to win for every friend you tell. Tell 10 people, and you'll get 10 extra chances to win. That's how it works. Plus, you're helping your friends out by telling them about the giveaway so they can enter as well. Just be sure to put giveaways@nwaMotherlode.com on the CC line of your e-mail so we can give you proper credit.
Good luck! We'll contact the winners via e-mail soon, so watch your inboxes!