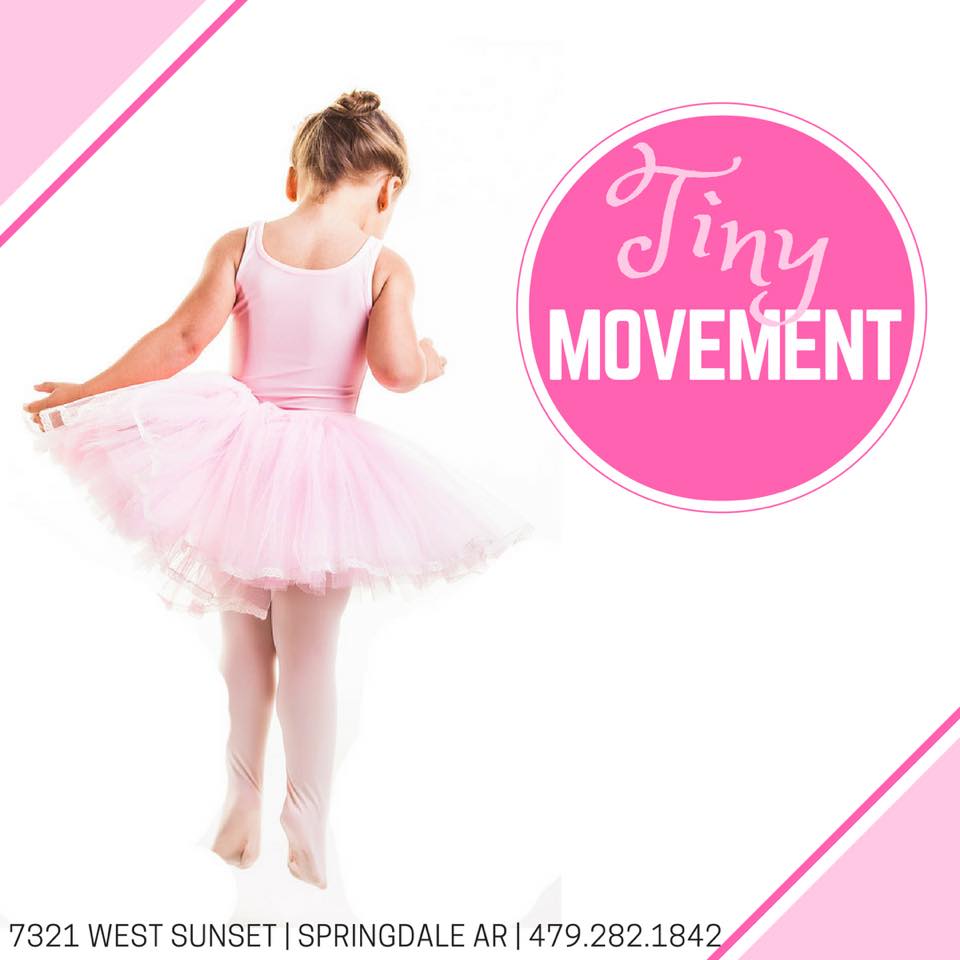 Hooray for starting out SMALL! The Movement Dance Studio, one of our new sponsors here at nwaMotherlode, has opened a new "mommy & me" class for ages 2-3 and you and your tiny dancer are invited to join the first class on Feb. 2nd! If you've been considering having your little one start dance class, this is a great opportunity.
The class is called Move with Me and is the perfect way for a parent/caregiver and child to get acquainted with dance. There's no pressure of an end-of-year recital, just dancing and fun.
To sign up for the new class, call the studio at 479-282-1842  or message them on Facebook here.
We asked one of the teachers, Rebecca Mala, about this class and some of the others offered at The Movement Dance Studio:
In addition to the Move with Me class, do you also offer other classes for younger kids?
Yes, we also offer ballet and tap classes for 2-3 year olds, 3-4 year olds and 4-6 year olds.
What can moms expect from the Move with Me class?
Moms, dads or any caregiver can expect to come move and dance with their little one (ages 2-3 years old). This class is designed for the young dancer who isn't quite ready to be in a class on their own! We will work on stretching and basic dance steps and will use fun props like teddy bears, butterfly wings, hula hoops and so much more to help teach coordination, musicality, rhythm and Movement!
Why did you want to start a class for the "littles"?
We love having the Littles at our studio! Not only do they add great energy to the studio, but we feel that encouraging young kids to dance is so important! Dance is a wonderful way to spark creativity and also enhance focus, concentration and discipline. Dance also helps to develop great social and communication skills with other kids!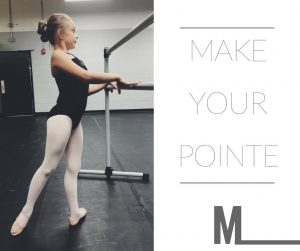 You also have classes for older preschoolers and older kids, too, right?
We do! We offer great combo classes that will teach kids fundamentals of ballet and tap. We have jazz dance, turns and leaps classes and hip hop classes. We now also offer an all-boys hip hop class that we are super excited about! AND If there are any dancers that only want ballet, we have a fantastic ballet program, called Movement Ballet Theatre that includes pre-ballet classes for ages 8-10 years and also beginner, intermediate and advanced level classes for ages 11-up.
Tell us about the dance options for adults. Do you have classes for grow-ups who don't have dance/ballet experience?
We have a Monday morning Beginning Adult class from 10:30-11:30- no experience needed! We work at the ballet barre, stretch and even do some across the floor work.
What do you love about teaching at the Movement studio?
I adore teaching at this studio because the staff and families are all supportive and caring. It's a very positive atmosphere and they really encourage all dancers to not just learn steps and movement but to all work together to discover and explore the pure JOY of dance!
What would you tell parents who are considering dance classes for their kids?
Putting your child in a dance class is one of the best things you can do to help boost a child's self-esteem and confidence. Being in a dance class allows each kid to explore their creativity, release energy, and meet new friends!
The Movement Dance Studio is at 7321 West Sunset in Springdale (right across from Har-Ber Meadows). Or visit their website here for more information!