By Sarah Hood, technologically minded
It's 2010. It's the age of blogging and social media and iPhones and status updates. It's hard to believe that just 10 years ago, not everyone had a blog, not everyone had a digital camera or even a cell phone. It boggles my mind. Yes, there was life before Google. There were television commercials. People communicated face to face!
And oh, wasn't it nice?
A few weeks ago I had a moment of radical nostalgia. I climbed up in the attic and pulled down a box I hadn't opened in several years. And spent hours looking through pictures and mementos from the fall semester I spent abroad in 2002. Sadly, that was in THOSE days – the ones before blogging and digital photography. I have often thought how unfortunate it is that I don't have an online, written record of that semester like I would if I went now. Let's be honest, the internet would be subjected to (likely) a daily dose of rambling from a 19 year old college kid on a 3-month trek through Western Europe littered with backpacking hostels, Eurorail passes, and homesickness. It would surely be overload. But oh – I wish I had those words to go back and read now.
And as I looked through the photos I hadn't seen in far too long, I realized that the blogging, Shutterfly-ing, social-media-obsessed Sarah of 2010 just couldn't bear to put all those photos back in the box and shut the lid for another couple years. I had to do something.
So I did. I found Digmypics.com. I put all my negatives (remember those?) in a box and shipped them off. They turned this: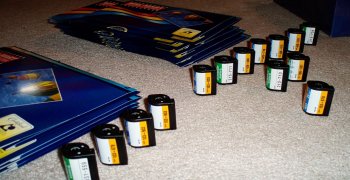 Into THESE! Can you imagine if these memories had remained boxed up forever?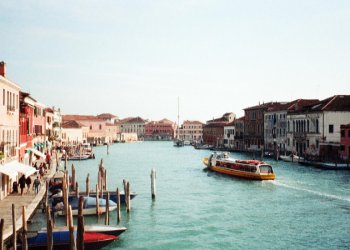 Venice. Everything travels by water – taxis, police, business people. That vehicle in the water is a water bus – public transportation.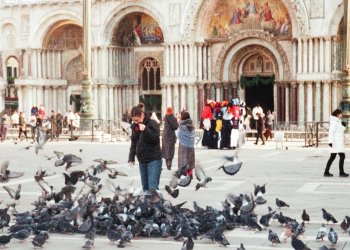 That's me in the middle. Feeding the pigeons in St. Mark's Square in Venice.
I took 16 rolls of film in one semester. That's 400 photos. Only 400. I can take that many in a single weekend now, with my digital camera. Can you imagine how many photos I'd have taken if I had limitless digital memory and didn't have to worry about developing each roll? If only I'd been able to just snap away at different angles like I do now? Taking multiple shots of details and landscapes and people and – just everything.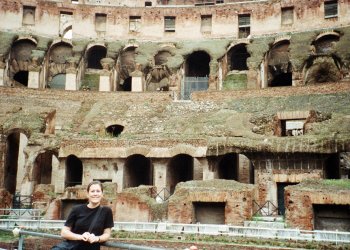 At the Colosseum in Rome.
These pictures are like finding 20 bucks in the pocket of your winter coat when you put it on for the first time since last season. Like buried treasure. I won't even tell you how much time I've spent looking through them in the last few weeks and thinking about the ETERNITY that has passed since I returned from this trip. It was a lifetime ago.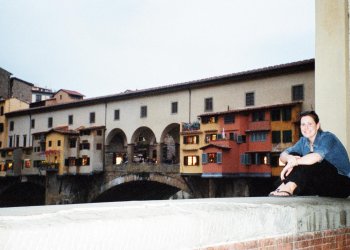 My favorite bridge in Europe. The Ponte Vecchio (Old Bridge) in Florence. It's lined with little jewelry stores and it's just adorable.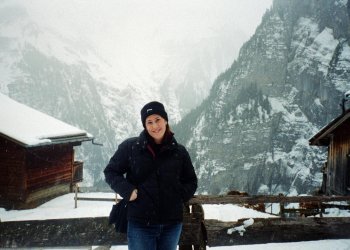 The Alps. Switzerland.
Digmypics was incredibly easy and FAST. I sent my negatives and a few days later had online "proofs" to review. I was able to deselect the photos that I didn't want to keep (and didn't have to PAY FOR!) and  received CDs in the mail a few days after that! Easy as pie! They did everything – and now I'm able to digitally catalog these photos along with all my other family photos, edit them in Photoshop to my heart's content, create a Shutterfly Photobook, or share the photos online with all of you.
The only drawback that comes to mind is that now I'm hooked. I'm gathering photos from high school prom (gasp!) and graduation, and any negatives from childhood I can get my hands on – and will be sending Digmypics a second batch as soon as I can!
This post adapted for nwaMotherlode. Originally posted on Musings of Mother Hood. Technology blogger Sarah Hood would love to hear from you with questions or feedback regarding gadgets, technology, or blogging. To read previous installments of Techno Mama, click here!