Editor's note: Parrot Island Waterpark is a paid sponsor in the featured section of our 2018 Northwest Arkansas Summer Camps & Activities Guide. This story offers additional information about events and activities at Parrot Island.
Name of summer fun spot: Parrot Island Waterpark in Fort Smith is fun for the whole flock.
Pass prices: Buy early (through April 30th) and season passes are only $53. Click here for special rates.
When does the water park open?
The park opens on Friday, May 25th.
Are there designated areas for little kids, too?
Yes, the park has different areas designated for different age groups, including Tiny Turtle Island (shallow water places to play and splash), Toucan's Cove (activity pool area for older kids) and 4 huge slides (including the 40-foot Pineapple Plunge). They also have a lazy river and a wave pool.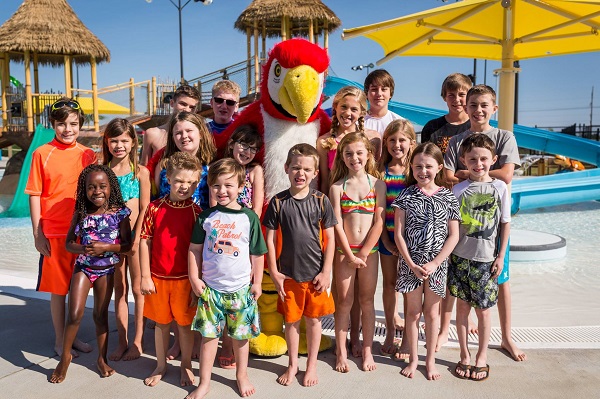 What are some special events happening this summer?
Tiny Tot Time
Just for tiny guests 5 and under, Tiny Turtle Island is open exclusively for the little ones and parents most Thursday mornings during the season. Tiny Turtle Island Only. 8 a.m. – 9:30 a.m.
Aqua Jog
For guests 40 and over, Crocodile Creek Lazy River is open early every Thursday morning during the season for those wanting to get in quiet exercise time before the hustle and bustle of the day begins. Lazy River Only. 8 a.m. – 9:30 a.m
Friend Frenzy
All Season Pass holders can bring one friend for free! Valid Memorial Day Weekend, Fourth of July Weekend, and Labor Day Weekend! See Event Calendar for dates.
Teen Night
June 9, July 14, and August 11. Back this year by popular demand! The fun happens at Parrot Island's Wave Pool and Surrounding Deck with the Rockin' entertainment provided by MS Event Group. Tickets available at the Parrot Island Waterpark Ticket Office.
Music Sundays
New this year! Enjoy live music by local artists at Parrot Island's Wave Pool and Surrounding Deck. Regular Admission Fees apply.
Dark Waters
Come out and enjoy an evening with Waves of Fun and Wild Slides! Parrot Island Waterpark will be open on select nights from 7:30 p.m. to 10 p.m.
Family Fun Friday
Admission for a family of 4 is just $40 on select Fridays. Check out the calendar for select days

Does Parrot Island offer group events?
Yes, and they also offer birthday parties. For group events, they can also include add-on options:
Private Pavilion Rentals
Gator Golf Mini Golf
Wanna Be Racing Go Karts
Private Catered Meals
Meal Tickets at Island Breeze Snack Shop

Click here for more information on Parrot Island fun this summer!