Happy Friday, mamas! Today (May 24, 2019) is the day that Parrot Island Waterpark opens for the summer! Whoo-hoo! Grab your sunblock and your kids and go celebrate the fact that summer is coming! In addition to summer, there's also a new attraction coming to the park that might make you feel like you're really at the beach!
It's not often that those of us in land-locked states get to "catch a wave," but sometime in early summer, you'll be able to surf at Parrot Island in Fort Smith. The park's new FlowRider attraction is now under construction and it'll be a great way for your kids to get a taste of surfing. It has a thin sheet of water (about 3 inches) across a trampoline-type surface, creating an "endless wave."
Here's a video of the new attraction in action: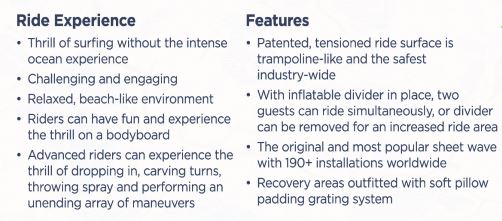 Here's more info on what you'll find at Parrot Island Waterpark in Fort Smith.
Pass prices: Season passes start at $59. Click here for rates.
Individual one-day admission rate is $15 for people over 4-feet tall. It's $10 for those under that height. There are also discounts for military and seniors. Non-swimmer fee is only $5.
When does the water park open this year?
The park opens for the season at 3 p.m. on Friday, May 24, 2019.
What other water slides and features are at Parrot Island? 
Parrot Island has a lazy river, activity pools, slides and the area's only wave pool. Click here to see an article we wrote last summer about all the waterpark's attractions. 
Are there designated areas for little kids, too?
Yes, the park has different areas designated for different age groups, including Tiny Turtle Island (shallow water places to play and splash), Toucan's Cove (activity pool area for older kids) and 4 huge slides (including the 40-foot Pineapple Plunge). They also have a lazy river and a wave pool.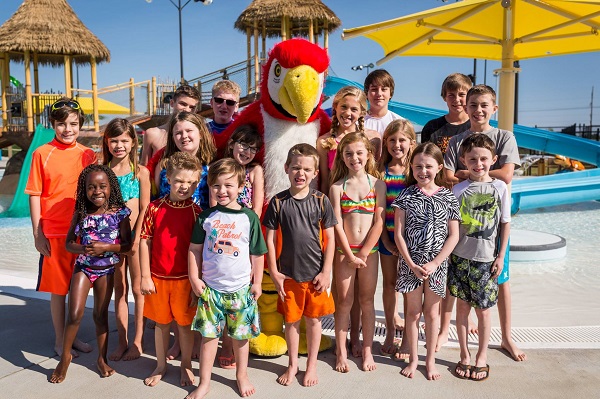 What are some of the special events happening this summer?
Tiny Tot Time
Just for tiny guests 5 and under, Tiny Turtle Island is open exclusively for the little ones and parents most Thursday mornings during the season. Tiny Turtle Island Only. Happens from 8 a.m. – 9:30 a.m.
Aqua Jog
For guests 40 and over, Crocodile Creek Lazy River is open early every Thursday morning during the season for those wanting to get in quiet exercise time before the hustle and bustle of the day begins. Lazy River Only. This activity takes place from 8 a.m. – 9:30 a.m
Teen Night
Teen Night happens on June 8th and July 13, 2019. The fun happens at Parrot Island's Wave Pool and Surrounding Deck with the Rockin' entertainment provided by MS Event Group. Tickets available at the Parrot Island Waterpark Ticket Office.
Dark Waters
Come out and enjoy an evening with Waves of Fun and Wild Slides! Parrot Island Waterpark will be open on select nights from 7:30 p.m. to 10 p.m.
Click here to see the complete list of special events for 2019. 

Does Parrot Island offer group events?
Yes, and they also offer birthday parties. For group events, they can also include add-on options:
Private Pavilion Rentals
Gator Golf Mini Golf
Private Catered Meals
Meal Tickets at Island Breeze Snack Shop

Click here for more information on Parrot Island fun this summer!