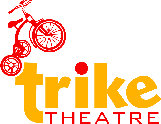 If your kids enjoy drama, check out these Trike Theatre summer camps June 14-July 30!
They have 5-day camps this summer for students ages 4 years to rising 9th graders. Half day fine arts camps and full day performance camps will be offered at Walton Arts Center in Fayetteville and art Kaleidoscope Dance Studio in Bentonville.  Many camps are based on the upcoming Walton Arts Center performance of Beauty & the Beast.
Jenny Guy is returning to teach the first camp of the summer with Jason Suel during the week of June 14-18.  Rising 3rd-6th graders in the Beauty & the Beast Performance Camp at Walton Arts Center will explore the French tale and Broadway musical through songs, choreography, writing and improvisation. The performance camps are appropriate for beginner and intermediate actors, and will culminate in a performance on the last day.
There will be two Beauty & the Beast Fine Arts Camps for 4 year olds to rising 2nd graders. The first will be at Kaleidoscope Dance Studio from June 21-25.  The second is at Walton Arts Center from June 28-July 2. Students in the morning or afternoon sessions of the camps will use creative drama, dance and visual arts to learn about the story, the music and themselves.
In Trike's ZOO! Fine Arts Camp for 4 year olds to rising 2nd graders, students help the zookeeper find animals that have escaped! Camp incorporates creative drama, dance, music and visual arts based on zoo animals, zoo life and zoo stories.  The half day camp is at Kaleidoscope from July 5-9.
The last two camps in Bentonville are performance camps for actors entering 3rd – 9th grades.  Students will study famous scenes, create characters, and learn stage combat during Shakespeare's Heroes & Villians Performance Camp from July 19-23.  Then Trike will have another Beauty & the Beast Performance Camp during the week of July 26-30.
Learn more about the camps and register online at www.triketheatre.org  or email Trike for a registration form to mail.  Campers for WAC camps must be registered through their box office.