I met Dr. DeAnne Witherspoon and her husband, Dr. David Witherspoon, shortly after getting a note from the school nurse. My second-grader flunked the vision test, and he needed to see an eye doctor. I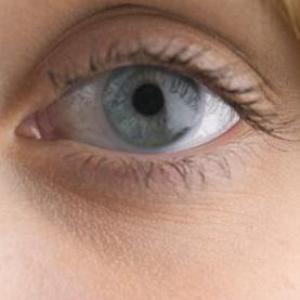 had already had his eyes examined once in kindergarten by a different physician, and he couldn't find a problem. So I opted for a second opinion and called Dr. Witherspoon's office for an appointment.
Within a few moments of starting the exam, Dr. DeAnne knew exactly why my son was failing the "muscle control" portion of the eye test. She explained the condition to me, which isn't anything serious, and put me at ease. She even faxed a note to the school nurse so she'd know my son had been checked out thoroughly. Sometimes, it's awfully nice when your doctor is a fellow mom who understands how nervous we mama types can get about our kids' health.
So I'm happy to announce that Drs. David and DeAnne Witherspoon Optometry are now sponsors of nwaMotherlode.com. Their clinic is located in the Village on the Creeks shopping plaza in Rogers, and they have a huge selection of frames in their clinic as well. (Brands available include frames by Kate Spade, Escada, Gucci, DKNY, Vera Wang, Guess, Coach and LOTS more. Click here to see all the choices. For kids, they have multiple brands including Disney frames and Power Rangers! We love options!)
If you or one of your kids needs an eye exam, keep the Witherspoons in mind. If you love this website, we hope you'll "show the love" to the sponsors who help make it possible. The Witherspoons are parents to two daughters, and they're both incredibly personable and "mom-friendly." Below is a Q&A with Dr. DeAnne Witherspoon that will help you get to know her a little better:
How did you become interested in optometry?
When I was 12, the world became clearer after a visit to my local optometrist. Suddenly, the trees had leaves from afar, the kitchen clock had a second hand, the football players had numbers on their backs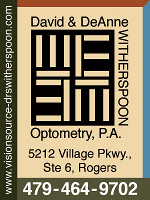 from my view high in the stadium. This is not unlike any eye care professional's story. From there, we just wanted to let others have their "wow moment." There is still nothing like the feeling I get when a youngster puts on that first set of glasses and says "Wow."
What are the red flags that might indicate a child is having vision problems? At what age should a child have his or her first eye exam?
Signs of an eye issue in children can include squinting, eye turn, head tilt, inability to stay on a near task, inability to do near work at a normal working distance, difficulty reading or skipping lines, and comprehension issues. Some signs are more obvious, and some not at all. Many of these will be picked up on a first eye exam, others on a more comprehensive exam. There is a relatively new program for infants 6 to 12 months old called InfantSee. It's a visual assessment accomplished early to look for early issues. (We'll give you more info about this program in a later post.)
What types of vision problems are hereditary?
There are many genetic eye conditions. Most common in children would be eye muscle problems. Other eye conditions can be environmental, age-related or secondary issues related to other disease processes.
From your experience working with grade-school kids, is it cooler to wear glasses these days than it used to be?
Fifty years ago some children wanted glasses just to have them. Today, that still happens, but with the technology in the exam room, it's easier for the professional to discern who wants glasses versus who needs them. The difference is the glasses available today and the choices kids get to make are "cooler." 🙂
What are the latest advancements in your industry?
Technology advances in optometry have come a long way in the 28 years I've been involved in the profession. The advanced ways to analyze the retina, optic nerve and overall health of the vision system is quite good, given the miniscule size of the areas of the eye that we evaluate. The OPTOS retinal scanner is a great example of the technology available in office today.
What are the happiest moments of your job? Which ones are the most challenging?

My happiest moments are when my patients are pleased. When a patient comes in with an issue and we're able to solve that issue and make their day-to-day life better for them, it's an awesome feeling. Challenging moments occur when a patient has an issue that is out of my control or that just isn't going to be solved by any human input or contribution.
How did you and your husband meet? What are the biggest perks and challenges of working with a spouse?
David and I met in optometry school in Memphis in 1978 by chance or luck when the instructor said "Find a lab partner who you can work with all year." I turned around and there he was. Though I really would have preferred a female lab partner, the only other two girls had partnered with each other.
The challenge of working together is to leave the work at the office when others are around. When our oldest daughter was 10, she said at the dinner table one night, "Do we have to talk about eyeballs at the table again?" David and I are, however, empty nesters now and we do relish being available to our patients 24/7. We love optometry!
When you're not working, what do you like to do for fun?
When we're not working, David and I love to travel, spend time with our girls. (Megan is 26 and Amy is 19.) We also have a little cabin in the woods we go to often for escape. There are no computers, TV stations, video games and no land lines for the phone. The girls have made lots of memories there.