As you know, we're always on the lookout for sponsors who run the kinds of businesses moms really need. One of our newest sponsors, Dr. Jesse Gray of Northwest Orthodontics, came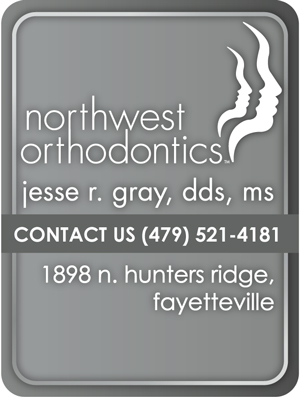 highly recommended by a mom we trust whose daughter is a patient there. We hear lots of good things about him from lots of people.
Unless your kids happen to be very genetically lucky and get super straight teeth, chances are you'll probably need an orthodontist at one point or another. So when and if you do, keep Dr. Gray in mind. (If you or your kids are already patients of Dr. Gray's, post a comment below and tell us what you think!)
Below is a Q&A with Dr. Gray, to help you get to know the guy behind the dentist's mask:
What got you interested in the field of orthodontics?
I've always been interested in teeth… I know, it's weird. I decided to go to dental school without much forethought, actually. I just liked working with my hands and thought it would be fu

n working with people everyday. The summer after my first year of dental school, I ended up installing a computer network in an orthodontist's office. We hit if off, and he asked me to come back and shadow him for the day. I was hooked! His patients' lives were being changed by what he was doing for them. I knew that's what I wanted to do for the rest of my life.
What does a great day at the office look like?
Just about every day is a great one when you're an orthodontist. We usually get to take two people's braces off each day. I'd say getting to see them smile at themselves for the first time seeing their new smile is about as good as it gets.
What is the most challenging part of the job?
The biggest challenge I have is trying to motivate kids to do things that they are inherently not interested in doing – like wearing rubber bands to fix their bite! Not many teenagers care about their occlusion (the fit of the teeth); but, fixing it is one of the most important aspects of orthodontic treatment. This allows them to keep their teeth from wearing down over the course of their lifetime, hopefully reducing the number of crowns or fillings they will need.
What are some of the latest advancements in the field of orthodontics?
Probably the biggest change I've seen in orthodontics since I've been in practice has been the change from using heavy forces to move teeth to using the lightest ones possible. Using a type of braces that allow the forces to be light completely opens up a whole new world of possibilities for patients.
I have patients who would have needed either jaw surgery or permanent teeth extractions that we have been able to help non-surgically… just with braces alone. There have also been changes with the wires that we use that are really shortening people's time in braces, too. Invisalign has also come a long way in the past year to allow us to do things with it that would have previously required braces.
Here are a few before and after photos of one of Dr. Gray's patients. Amazing difference, huh?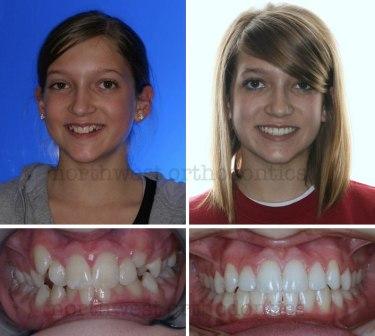 Are kids still just as bad about not wearing their retainers as they were when I was a teenager?
Maybe worse! Because of that, I put permanent (glued-in) retainers behind the upper and lower front teeth of every patient that will let me. These keep the front teeth from shifting and can be easily cleaned around if you know how. I think it's one of the most important practice decisions I've ever made. Not a day goes by that I don't see someone who hasn't worn their retainers well, and say, "Thank goodness for permanent retainers!".
You're a father of 5, so we know you're a busy guy. Tell us a little about your family and one of the things you love most about being a dad.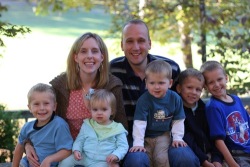 Well, we had four wonderful boys before our youngest daughter was born. I just didn't know what I was missing in having a little girl. Don't get me wrong… I was perfectly content just having boys, doing all the disgusting "boy" things we do (we've had more snails and earthworms consumed at our house than I care to mention). But, there's just something about the way my little girl, Maddie, snuggles up that just melts my heart. It's special.
If you had a few hours of free time, what would you do just for fun or relaxation?

It seems like just about every opportunity I get to slip away, I end up going for a run. I just ran my first marathon last month in Chicago. Lord willing, I'm going to run the Little Rock marathon this next March. Training for those takes up a lot of time – but it's one of the most fulfilling experiences of my life.
Favorite movie: The Notebook. Just kidding… I fell asleep trying to suffer through it. I'd have to go with The Lord of the Rings Trilogy. I know, technically that's three movies… but who's counting?!

Favorite meal: Every Christmas morning, I make my secret recipe Buttermilk Fried Chicken with fried eggs. I look forward to that meal all year long.
Name the thing that always makes you smile: My 2-year old Maddie's belly laugh. If you don't smile from a little kid's belly laugh, then I don't want to know you. Seriously.
Note: We just had to share this holiday snapshot of Dr. Gray's kids we spotted on his personal blog (which you can check out by clicking here.) We especially love the caption on it, which says "The Goof Troop is in full effect tonight. Only 3 broken ornaments. A success in my book."