The mama who won the brand spankin' new washer/dryer set from Metro Appliances & More has her husband to thank!
He's the one who commented on the site while she was busy with benchmark exams at Southwest Junior High in Springdale, where she's an English and French teacher. Cathy Head's husband, Greg, VP at Signature Bank, hijacked her e-mail and took matters into his own hands, offering his best spring cleaning comment:
"I think it helps to break up spring cleaning into manageable lists. Think of what you need to clean in each area of the house and then make a Kitchen list, Bathroom list, Bedroom list, Dining Room list and Living Areas list. Once you can break up each area you can take a little time each day to get them done and then mark them off. As your mark offs increase, it gives you a great sense of accomplishment as well as a thorough cleaning."
How does Greg sound so confident about spring cleaning? Well, he has three daughters, a wife and multiple female pets, Cathy noted.
"That's why he's so far up on the great husband scale," she said. "He's like the Flylady."
After Cathy said "This is amazing" a few times, she said the win comes at a perfect time because her oldest daughter, Catelyn, is graduating from TCU in Ft. Worth in a few weeks and is getting married just weeks after that (future son-in-law, Luke, is in the pic at top). In her excitement, Cathy said Catelyn would love getting this new washer and dryer. A little into the conversation, she reeled that back in and said Catelyn would love getting her mom's current washer and dryer so the brand new appliances could come to live in her own house! Now you're thinkin', Cathy! A mama can't sacrifice everything for her kids 😉
Cathy also has two other daughters, Christen, who's a freshman at the University of Arkansas, and Gracie, a fifth grader. Christen will be home from college this summer so she'll be in a position to help Gracie, who's at the perfect learning age, how to operate the fancy machines, Cathy said. And now that she can put all the laundry supplies in the pedestals underneath the appliances, Gracie can reach everything she'll need.
Cathy laughed at how much effort it took to get her informed about the win. We had emailed and Facebooked her, but she was a little worried the info was bogus. After all, she hadn't signed up for any washer and dryer. THEN, after we left a telephone message at her house that said something like, "We're trying to reach Cathy Head. Cathy, if you signed up for a washer and dryer on nwaMotherlode.com, please give us a call." Luckily, her husband got the message and called her!
"I think you better call this number," he told her. "I think maybe you just won a washer and dryer." Then he told Cathy he'd signed her up. Very good husband, Greg!
Cathy said his good deed won't go unnoticed and will likely earn him his favorite meal tonight.
"Yes, I think I'll have to go home and make beef stroganoff!" she said.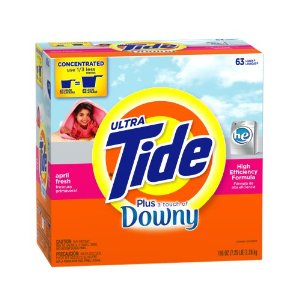 Another teacher won the other laundry-related giveaway! Congratulations to Julia Spears, who won free laundry detergent for a year. Julia is a teacher at Heritage High School in Rogers. Right now, she teaches Algebra I, but she'll be switching to art/graphic design next year which fits her background best.
Julia is married and they have a "hilarious, curly haired, three year old son, Clay."
Julia said, "Clay is constantly into everything (what boy isn't?!) so I'm always doing laundry (just like every other momma, right?). We are expecting our second child in October and we are saving up for all the baby expenses, so this couldn't have come at a better time."
She'll be doing lots of laundry with two little ones in the house, that's for sure.
Congratulations to both of you, Cathy and Julia!