In this nwaMotherlode segment, Savvy Banking, you'll find the answers to a variety of pressing money questions submitted by Northwest Arkansas moms.
This month's question is:
Q: I'm getting married in August. Is it best to keep our bank accounts separate or combine them?



Holly Wheeler: It seems that there are a lot of strong opinions out there about this particular topic. It wasn't all that long ago that it was just assumed that a new husband and wife would open a joint checking account, combine all their finances and that's just the way it was.
Nowadays it is more likely that both people will work and have their own income. It also seems that couples are getting married later, which means they are likely to already have a method to which they handle their finances. The thought of taking your perfectly tuned process and combining it into one joint account with a spouse who has never used a check register could cause an instant panic attack for someone with mild OCD tendencies.
On the other hand, I know couples that believe having a joint account is a fundamental part of a marriage.  When you enter into that life-long commitment with your spouse, everything should be combined, and the two of you shall operate as one.
So, what's the solution? The answer is that there's no single right answer! What works for one couple might not work another, and that's ok!
The foundation of a successful marriage is trust, and with that comes open and honest communication. Many pre-marital counselors suggest that engaged couples discuss and come up with their own financial plan before making that trip down the aisle.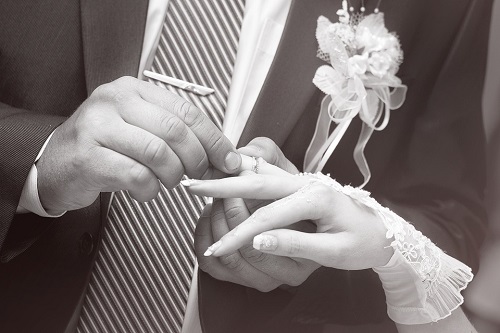 I'm hesitant to admit that I actually asked my husband for a copy of his credit report before we got married. How unromantic is that?
I think it was the inner-banker in me coming out, but I was relieved and pleasantly surprised to learn that his credit score was higher than mine!
I don't recommend making a good credit score a requirement of saying "yes" to a proposal, but it is important to know the type of financial situation you are getting into.
Make it a priority to openly discuss the expectations you both have regarding future spending habits, savings goals and financial responsibilities before the Big Day. It probably won't be the most fun conversation you have, but it will be worth it!
If you know you don't want to keep your finances separated, but neither of you are sold on completely combining into one account, a common option to consider is to open a primary joint checking account, but also keep separate accounts.
The joint account can be used to pay the bills and for other household items.
The separate accounts can be used for individual spending money.
This option can work well, especially if your spending habits slightly differ. You can always add each other to your personal accounts if you don't feel comfortable keeping it completely separate.
The challenge with the 3 account option can come when one spouse makes more money than the other. Will you both contribute the same amount to the joint account each month or will it be based on a percentage of your income? In this situation it's important to come up with a solution that is fair and acceptable to both parties.
It all goes back to having open & honest communication and doing what works best for your particular situation.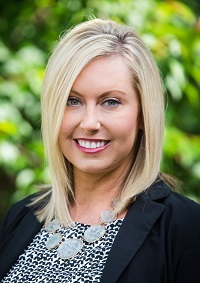 Holly Wheeler is a Vice President and Private Banking officer for First National Bank of NWA She has 14 years of banking experience in the NWA market. She obtained her bachelors degree from the University of Arkansas and is an Honor's Graduate from the Arkansas Bankers Association's School of Lending. She is a Sustaining member and past board member of the Junior League of NWA, as well as the treasurer for both the NWA Delta Delta Delta Alumni Association and Housing Corporation. She is the proud mom to her sons Ross and Charlie and wife to her husband Britton.