This money segment with First National Bank of NWA has become really popular because it addresses questions from local parents.
Click here to read previous Q&As with First National Bank of NWA which focus on money questions like how to save for your kids' college, how to bank from your smartphone and deciding how much house you can afford.
Here's the newest question from a Northwest Arkansas mom:
Q: I just separated from my husband this week. How can I protect myself financially (bank accounts, credit cards, etc) and begin the process of separating our finances?
Marital separation or divorce is a stressful and emotional time. It can also have a big impact on your finances. Every couple's situation is unique, and regardless of your net worth, there are two important things to keep in mind.
1. It's important to have a good understanding of the assets and debts that you and your spouse have. Knowledge is power!
Assets:
Bank accounts
Retirement accounts
Life Insurance policies
Real Estate
Personal property, etc
Debts:
Mortgages
Bank loans
Credit cards, etc.
2. Before you make any big decisions, the first thing you should do is speak to an attorney that specializes in family law. They will be able to advise you of your legal rights to your shared assets and how marital property should be divided. Property division laws can be very complex and vary from state to state.
Other things to keep in mind:
Both parties are also responsible for joint debt. Even if one spouse has been making the monthly payments, a creditor will hold both borrowers accountable as long as they are both on the debt. If your spouse stops making payments, your credit will be negatively impacted as well. It's a good idea to reach out to your bank or financial institution and make them aware of your situation so that you can stay in front of any potential credit problems.
As a banker, I've seen several instances in which a Divorce Decree will state that one of the parties is responsible for a particular debt(s). It is that person's responsibility to refinance the debt into their own name. Until this happens, the creditor can and will continue to hold both parties accountable!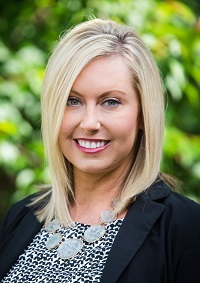 Holly Wheeler is a Vice President and Private Banking officer for First National Bank of NWA She has 14 years of banking experience in the NWA market. She obtained her bachelors degree from the University of Arkansas and is an Honor's Graduate from the Arkansas Bankers Association's School of Lending. She is a Sustaining member and past board member of the Junior League of NWA, as well as the treasurer for both the NWA Delta Delta Delta Alumni Association and Housing Corporation. She is the proud mom to her sons Ross and Charlie and wife to her husband Britton.