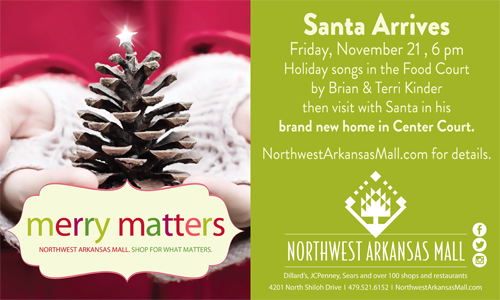 Santa Claus is parking his reindeer at the Northwest Arkansas Mall this month and he's going to have a beautiful new house for the kids to visit this year!
The mall is going to have all new holiday decor and Santa's workshop is also getting a major makeover.
Santa arrives at the mall on Friday, Nov. 21, and there will be some fun kick-off festivities. There will be a FREE show at 6 p.m. in Food Court with Brian & Terri Kinder. They'll be singing holiday songs for kids of all ages.

Santa will arrive after the show and kids will then be invited to parade with Santa from the Food Court to Santa's new home in Center Court. Bring the kids dressed for pictures with Santa because he'll start posing for photos in his new digs right away!
Photo packages start at $22 and some will include free Shutterfly gift cards. Packages will be posted on the mall's website soon.
CLICK HERE to jump over to the mall's website. Like their Facebook page HERE and stay up to date on all the sales going on at the mall during this holiday season. The mall is a great one-stop shop for Christmas gifts (and moms love a sale!).
Speaking of sales, stay tuned for information about Black Friday events and discounts. A little birdy told us the mall event is going to be HUGE.
Here's a partial list of stores at the NWA Mall that will help you with getting that Christmas list knocked out:
See's Candies (headed back to the mall for the holiday season)
Dillard's
Razorback Shop
JC Penney
Sear's
Melody's Choices
Victoria's Secret
Francesca's
American Eagle Outfitters
Bath and Body Works
Candy Craze
Gap
Gymboree
Justice
CLICK HERE to see a full list of stores at the NWA Mall.