The holiday season is in full swing and there is finally a chill in the air!  Here are 5 things in Northwest Arkansas you and your family can do together this weekend. Don't forget to also check out our  2017 Northwest Arkansas Holiday Events Guide for even more events happening this weekend!

Christmas at Dickens Place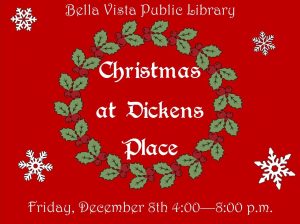 The Bella Vista Public Library is very excited to be hosting Christmas at Dickens Place TONIGHT. There will be beautiful lights, charming carolers, delicious food trucks, and an appearance by Santa Claus. This is a perfect opportunity to enjoy some community holiday cheer and do some Christmas shopping from the fine artisans and craftsmen in Northwest Arkansas.
Date: Friday, Dec. 8
Time: 4 p.m. – 8 p.m.
Location: Bella Vista Public Library
More info: Click here
Grinch Who-bilation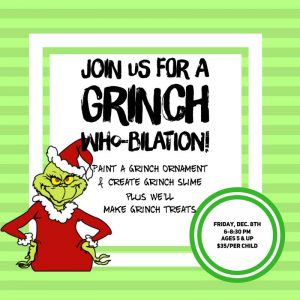 All the Little Whos are invited to a GRINCH WHO-BILATION at Imagine Studios. Whos will create a special Grinch ornament, make Grinch slime, and decorate special Whoville treats. Pizza and drinks will be served so no need to feed the Little Whos before drop off. Miss Melanie will be the Holiday Cheermeister in this fun arts and crafts holiday celebration. $35 includes all three projects and pizza/drink.
Date: Friday, Dec. 8
Time: 6 p.m. – 8:30 p.m.
Location: Imagine Studios, Rogers
More info: Click here
Storytime at the Museum: Snow Storm
'Tis the season to join Miss Elyse for "Samson in the Snow" by Philip C. Stead as well as a Blackfoot legend about the mysterious Lord of Cold. Other swirly, snowy creature and holiday tales from North and Central America (PLUS a hands-on making activity) will follow. Storytime at the Museum is geared toward ages 4 and up; kids of all ages and their adults are welcome. Free and open to the public.
Date: Saturday, Dec. 9
Time: 10:30 a.m.
Location: Museum of Native American History
More info: Click here
Olaf's Frozen Adventure Big Golden Book Storytime
Follow Olaf, Anna, Kristoff, and Elsa through a frozen adventure to find the best holiday traditions. Activities to follow.
Date: Saturday, Dec. 9
Time: 11 a.m.
Location: Barnes & Noble, Rogers
More info: Click here
Winter Wonderland at the Stables
Free family event! Come see the mini horses, get pictures taken with Santa, decorate ornaments, write letters and more.

Date: Saturday, Dec. 9
Time: 12 p.m. – 2 p.m.
More info: Click here
---
The 5 events above offer some great options for the family, but if you have a sitter this weekend — and you're in need of a date night or a Girls' Night Out — our Friday 5 sponsor, Black Apple Crossing, always has a fun line-up of events during the week and on weekends.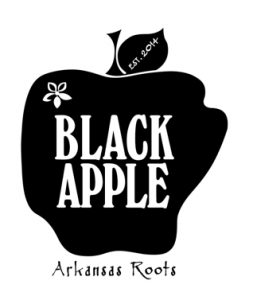 This weekend you can hear Jimmy Wayne Garrett & Liberty Bell (Friday night, Dec. 8 at 8 p.m.) and  Stand Up/Stay Up Comedy Show: Derek Smith (Saturday night, Dec. 9 at 8 p.m.). They also have Taco Tuesdays, trivia nights and book club events during the week! BAX has a new event every Thursday called Sip & Stretch Cider and Yoga Night starting at 7:30pm. 
Black Apple Crossing is the state's first cidery. It's located in downtown Springdale off Emma Avenue just past mile marker 13. Black Apple Crossing has produced naturally gluten-free hard apple cider with no added sulfites or other preservatives since July 2015. Click here to visit the Black Apple Crossing website.
Last weekend they released their latest cider, Shadow Queen, an oak-aged Imperial peach cider suffused with a hint of vanilla for the holidays.