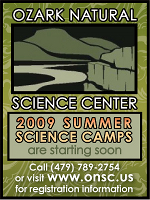 Just wanted to remind you that nwaMotherlode sponsor Ozark Natural Science Center (in Madison County) has some wonderful camps this summer. If your child or teenager loves the great outdoors or you'd like to separate them from their electronics, this private, non-profit environmental education center is your kind of scene. They also have some camps for families this summer.
ONSC offers year-round programming and their misssion is to enhance the understanding, appreciation, and stewardship of the Ozark natural environment.
This summer there are seven camps specifically designed for campers age 8-17 plus two new programs for families.  All programs incorporate activities at the center, ecology lessons and field experiences in the Ozarks with safety as a top priority. 
ONSC SUMMER CAMP INFORMATION:
Fledgling Naturalists

     

ages 8-9

      

August 6-8

      

$275
Junior Naturalists I

       

ages 10-11

  

July 12-15

       

$400
Junior Naturalists II

      

ages 10-11

  

July 22-25

       

$400
Senior Naturalists

         

ages 12-14

  

June 16-20

    

  

$500

 

Session 1

                            

                         

June 28-July 2

 

$500

 

Session 2
Field Expeditions*

        

 

ages 14-17

 

 

June 8-13

       

 

$650
Ozark Underground*

     

ages 14-17

 

 

June 22-27

      

$650
Buffalo River Escape

     

families

      

 

July 9-12

         

$400/$200 child
Family Naturalists

       

  

families

      

 

July 16-19

      

 

$400/$200 child
*** Special registration required
 Go check out the ONSC webiste or call (479) 789-2754 to decide which camp is the right fit for your child or family. (Click on the ONSC ad to go straight to their site.)