Guest post by Sheilah Roenfeldt, NWA mom and Ozark Natural Science Center enthusiast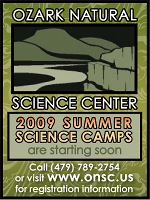 Our family, like most, are busy with year-end school activities such as benchmark testing, projects, finals and celebrations.  It is also time to begin to think about summer plans to keep our kids happy and active.
One place to definitely put on your list is the Ozark Natural Science Center (ONSC) located in Madison County.  ONSC is a private, non-profit environmental education center offering year-round programming including age-appropriate summer camps.  Their mission is to enhance the understanding, appreciation, and stewardship of the Ozark natural environment.
ONSC offers seven summer camps specifically designed for campers age 8-17 plus two new programs for families.  All programs incorporate activities at the center, ecology lessons and field experiences in the Ozarks with safety as a top priority. 
Two of my children have attended both school and summer programs over the past four years.  They learned about local features of the area by hiking, camping, canoeing, and caving under the supervision of a highly-trained field staff.
My daughter, in particular, has benefited from these experiences by using her caving knowledge and skills to earn a Girl Scout Silver Award, three honors at the Arkansas State Science Fair….as well as heading her into the direction of a career of a cave biologist! (See a picture of Sheilah's daughter going underground in a shot at the very bottom. The one just below is of some kids "turtle tracking" at the Center.)
Here are some questions answered by ONSC staff to offer additional information. I also encourage you to check out the website at www.onsc.us.
Q: My young child has never been camping.  Will she be able to participate?
Of course!  The younger campers stay in lodges with private restrooms and showers and eat delicious food in the dining hall.  Their field experiences will be on our trails and property with a nightly campfire near the lodges. 
Q: Will my older child being a newcomer to an advanced camp be disadvantaged without prior experience?
No, our camps are set up so that any newcomer will be welcome and fit right in with experienced campers.  Each camp program is designed with age-appropriateness.  Older campers spend more time away from the main center with day trips and overnight camps as they explore the Ozarks, including the Kings and Buffalo Rivers.
Q: Does my child need any special training or equipment to attend?
No special training is necessary. Each camper is provided with a packing list prior to camp of items such as clothing, footwear, flashlights, etc. and we provide any equipment campers need in the field or off-site with the advanced camps.
Q: Why do two camps require special registration?
Field Expeditions and Ozark Underground are advanced camps which are more physically demanding.  Campers need to have a high level of awareness and personal responsibility due to the nature of activities.
Q: Do you have orientation sessions for parents and children?
Parents and potential campers are welcome to schedule a visit to the Center at any time.  At the beginning of each camp, our staff hosts a welcome session to answer any concerns and questions to make sure that both camper and parent are comfortable.
ONSC SUMMER CAMP INFORMATION:
Fledgling Naturalists

     

ages 8-9

      

August 6-8

      

$275
Junior Naturalists I

       

ages 10-11

  

July 12-15

       

$400
Junior Naturalists II

      

ages 10-11

  

July 22-25

       

$400
Senior Naturalists

         

ages 12-14

  

June 16-20

    

  

$500

 

Session 1

                            

                         

June 28-July 2

 

$500

 

Session 2
Field Expeditions*

        

 

ages 14-17

 

 

June 8-13

       

 

$650
Ozark Underground*

     

ages 14-17

 

 

June 22-27

      

$650
Buffalo River Escape

     

families

      

 

July 9-12

         

$400/$200 child
Family Naturalists

       

  

families

      

 

July 16-19

      

 

$400/$200 child
*** Special registration required
So, get busy and check out the ONSC website or call (479) 789-2754 to decide which camp is the right fit for your child and let them explore the natural wonders of the Ozarks!  Your child will thank you.