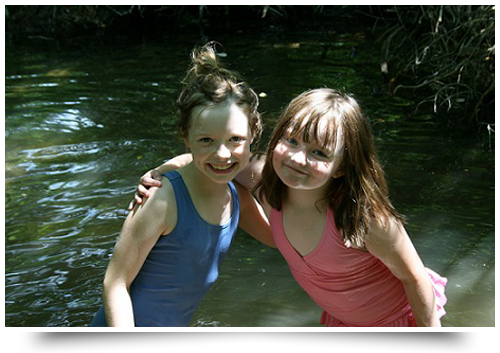 All year long, kids have been sitting obediently (ahem) at their school desks, pining away for summer vacation.

Well, it's almost time to get outside and play. With oodles of acreage near the Kings River, Ozark Natural Science Center is the ideal outdoor learning environment for outdoor-deprived kids. And they're offering all kinds of fun summer camps for ages 8 to 17.
Experiences range from conservation and naturalist camps to backpacking and river expeditions to art and science themes. Thanks to special grants and partnerships, many camp prices are significantly lower this year, allowing more children to have the opportunity of a lifetime.
We asked Bethany Stephens, executive director at ONSC, about the unique experiences available to kids there:
Why is it so important for kids to be immersed in nature?
Kids are increasingly disconnected from the natural world in startling ways. It is the new normal for more than one member of the household to work, and as parents we are all guilty of the desire for shortcuts – we are tired, kids have lots of activities, we want to have a family dinner but schedules don't align and there is homework to contend with in addition to the pursuit of a reasonable bedtime.
With that said, we can all do better as parents. Coming home, engaging in conversation and pushing our kids outdoors is as critical to their wellbeing as providing a meal or a good night of sleep. Of equal importance is ensuring that kids have unstructured outdoor time – that is, just sending them outside with the clothes on their backs and their imagination. A bag of snacks, 20 toys, a handheld video game to be played while outside or toys that entertain the child are not necessities for outdoor play.
To immerse a child in nature, challenge them to climb a tree, look under a rock, build something with sticks and found objects or – best of all – use their own imagination and see where it leads them!
What is consistently one of the most popular summer camps every year?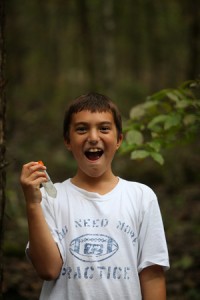 Without a doubt, the Ozark River Odyssey camps – we offer two sessions.  I think our team members are almost as excited as the kids – the refreshing waters of Ozark rivers during the heat of summer are always appealing! However, all of our Naturalist series camps are also popular – kids can attend these beginning at 8 years old and continue from Fledgling through Junior and Senior Naturalist camps, although it is not necessary to complete one to attend the others.
These camps are perfect for kids who are starting to identify a real interest in, curiosity about or affinity for the natural world, and our team jumps at the chance to cultivate that passion for science and nature in kids.
You have a few new camp experiences available this year, right? Can you tell us about them?
Yes! Our Program Manager, Rob Seal, has designed two new camps: Backpacking Expedition and Eco-Restoration.
Both are for older kids (13 and up) who might not be interested in a "typical" summer camp experience. The Backpacking camp will not only give kids a chance to get out in the field on a multi-day trip along the Ozark Highlands Trail, but will also help them explore trip preparation, safety and campcraft. The Eco-Restoration Camp is an experience that we are really excited about – and The Nature Conservancy has enthusiastically agreed to work with us on projects during the camp.
Campers will learn about erosion control, non-native plant removal, reforestation and other land management practices as they explore the Bear Hollow Natural Area, Kings River Preserve and Baker Prairie Natural Area.
Finally, while not a new camp, our Art & Nature camp has received some redesign and extra attention this year, and it is shaping up to be a very popular camp experience combining various mediums with influences of nature.
How do you help combat homesickness during the overnight adventures?
I think parent preparation is key – letting kids know that this is an exciting experience and that you're proud of them, and that this is a once in a lifetime opportunity! Kids need to leave for camp looking forward to the possibilities rather than looking back at a parent with tears running down their face, so be sure you sneak away to the car to have a moment! 🙂
Kids stay very busy during the day at camp, so homesickness tends to strike at bedtime or when there is a lull. Our staff are really adept at working through this issue, and our lodge counselors are outgoing, engaging young people with the ability to distract and help kids cope. One technique for parents might be to pack a small notebook or note cards so kids can write a letter or record the highlights of their day to share when they return home in just a few short nights.
How long has ONSC been offering summer camps?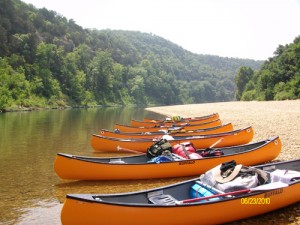 Actually, ONSC's earliest roots are in summer camp! This will be our twentieth year – our first program at ONSC was a two week Wet 'n Wild camp in 1992, part of the Arkansas Enrichment for the Gifted in Summer (AEGIS) program of the Arkansas Department of Education.
It's a common thread that our camps have always been fun for kids, but deeply based in learning and enriching experiences. Two of our current staff members were originally summer campers in this program, and a local representative of our favorite companies, Procter & Gamble, attended as well. Summer camps at ONSC, just like our year round school programs, tend to be very deep and life-altering experiences for kids.
Are there any special events coming up for families to visit ONSC for the day?
Yes! We are planning several volunteer work days for late May to help us tackle projects in preparation for summer camps. These may range from planned upgrades to our staff housing to resuscitation of our "tent village" to trail work and a collaborative project between staff, corporate teams and the community to tackle an exciting rain garden project.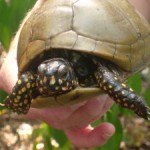 Also, this fall we'll hold our Fall Family Weekend & Campout – families can join us for hikes, activities suitable for all ages, nightly campfires and the chance to stay overnight as a family in either our lodges or our tent village. A great way to stay in the loop on these and other projects and family programs is to sign up for our e-newsletter or connect with us on Facebook or Twitter!  We also have a great blog that features photos, quotes about the natural world and Naturalist Notes about the amazing things our team members and visiting kids discover every day in the Ozarks.
The Ozark Natural Science Center is a 501(c)(3) nonprofit field science, environmental education and conference facility located in the Ozarks of northwest Arkansas. Its mission is to enhance the understanding, appreciation, and stewardship of the Ozark natural environment.