Happy Monday, mamas! Can you believe it's already March?
St. Patrick's Day will be here on the 17th, so we're sharing a cute recipe we found on the Woman's Day website for Shamrock Cupcakes, which you can make by putting together 3 or 4 heart-shaped cupcakes.
What we think is GENIUS about this recipe is that you don't need a special cupcake or muffin pan to make these treats. You can achieve the heart-shaped cupcake by simply putting a ball of foil into the round cupcake opening, which makes the "dent" of the heart. So smart!
Here's a pic of what it looks like in your standard cupcake pan: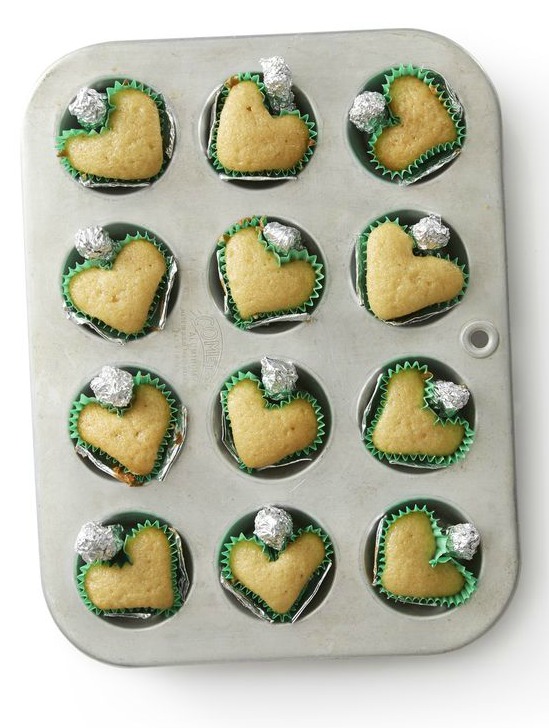 Click HERE to see the Shamrock Cupcake recipe posted on Woman's Day.
And if you're in the mood for a chocolate-based St. Patrick's Day treat, check out this recipe from local mom and blogger Heather Schisler of the Passion for Savings website. A few years ago, she shared this recipe for Shamrock Bark, and we LOVE the idea she offers for how to turn this treat into a great "thank you" gift for one of your kids' teachers. (She also says this is a great recipe that allows you to make it ahead of time so it'll be ready to go when you're ready to give it away or eat it yourself.)
The Shamrock Bark recipe only requires 3 ingredients:
1 Bag of Wilton Green Candy Melts
2 4 oz. Boxes of Bakers White Chocolate
1 Cup of Green M&M's 
Click HERE or on the image below to get the directions for how to put these 3 simple ingredients together to make Shamrock Bark.