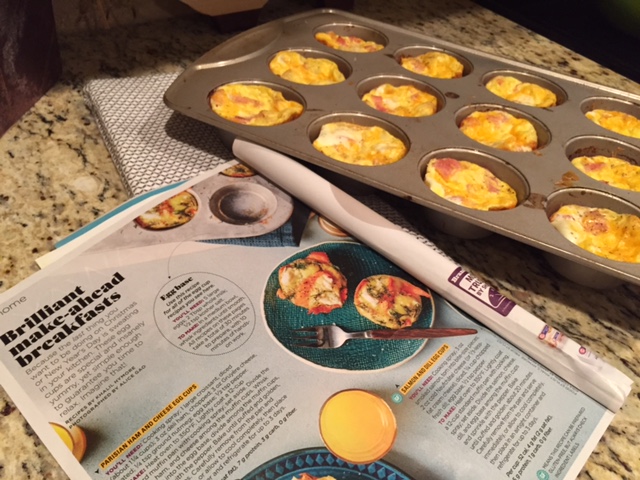 We saw a recipe in the December 2015 edition of Redbook for make-ahead breakfasts and thought we'd give 'em a try.
Turns out it's very good! And so easy to heat up the next few days without having to pull out the skillet and make omelets or scrambled eggs. Maybe make these for Christmas morning breakfast after you've snacked on candy from the kids' stockings?
We changed the recipe up and you could no doubt add your own twist, depending on what your family likes. Here's our version:
Ham & Cheese Egg Cups
Cooking spray
1 large croissant
3 oz of your fave ham
1 cup of of your fave cheese
5 large eggs
2 tablespoons milk
Salt to taste
Pepper to taste
Directions: Heat your oven to 350 degrees. Lightly spritz a 12-cup muffin pan with the cooking spray. Next, mix up five eggs, 2 tablespoons of milk and some salt in a separate bowl. Dice up the croissant and divide it among the muffin cups on the bottom. Next, divide the ham and cheese among the cups. Now, pour some of the egg mixture over each and sprinkle with pepper. Bake until puffed and golden, probably 20 minutes. Serve immediately or let them cool completely and put them in an airtight container to refrigerate for up to three days. They reheat really well!
Also, in that same section of Redbook, there was an egg cup recipe that called for low-fat cream cheese, fresh dill and smoked salmon to be divided up among the muffin pan.
Basically, you can make the egg base of 5 eggs, 2 tablespoons of milk and salt and add whatever extra ingredients you like.
Good stuff! Enjoy!