By Beverly Odom, owner Modoa Interiors
Tired of the same old, same old? Ready for a change but don't want to spend a fortune? Let me help! First things first, one room at the time, let's get started…
Pick a room in your house that feels unsettled, like this "before" fireplace/living room area.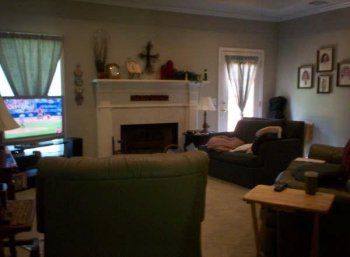 Without spending a dime, the room can be "re-freshed" just by following a few simple rules. The end result can be like this "after": a clean, open space that feels more put together.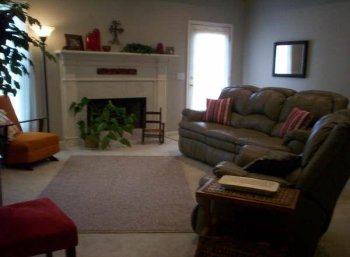 On to the rules. Move everything out of the room, everything except for the furniture that you KNOW you want to keep in the area. This is called "clean-slating" the current space. Now, stand in your newly emptied room. Does it still feel unsettled?
Perhaps the problem is just a matter of color. Paint is the most inexpensive material that can transform just about any space. Prep time included, painting takes about a day, depending on the room size and current color. If the color is satisfactory, then bypass the paint stage. Whoa, hold your horses! Are there any touch-up areas? Spackle! This is the time to clean the base boards, dust the blinds, and clear out those cobwebs!
Finding your room's purpose… after everything is spit-spot, then the question, "What happens in this room?" can be asked. Is the room used as a bedroom, living area, family room? Maybe it is a bonus room and has many separate activities going on. Define the space and begin bringing in the items that will serve to fulfill the room's function.
Balance…. A room with large windows may be in need of a large piece of furniture across from it. Think of the space in shapes. Balance a tall, skinny armoire with a low, rectangular sofa or wide secretary. Move the upright, walnut piano across from the ornate fireplace with detailed millwork rather than placing it beside it in the room.
Working with basic furniture, you now have the "bones" established. Much like a great pair of khakis and crisp, white blouse are the foundation to a terrific outfit. The merchandising may now commence. Scarves, necklaces, earrings, and handbags….
What color is the wall? This is the background of your painting. What colors are in your basics? Those are the scenery colors, like supporting actors in a great play. Pick a punch. Choose a color and let it play the lead role. An example would be cream-colored walls, khaki upholstered sofa and love seat, and soft green toss-pillows with a matching throw tossed over the arm of the sofa. To create a richer palette, find a pair of draperies with the wall and upholstery colors and your accent punch color included in them.
Merchandising, a.k.a. baskets, bowls, pottery, photo frames, and metals, can be found nearly everywhere. Some of my favorite spots are Oops, TJMaxx, and Target. For wall art, I have found terrific deals at Kirkland's near the NWA Mall. One thing highly recommended is purchasing a home and garden magazine and studying the photos. Notice how the objects are arranged by color and size to achieve balance and harmony.
So, empty the room completely, minus furniture certain to stay. Then, decide if your space requires a fresh coat of paint or just a little touch-up. Bring in items for the room's purpose and balance them off one another. And don't forget the icing on the cake. Merchandise with baskets, pillows, and art.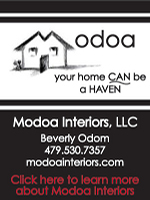 Happy Havening!
Modoa Interiors, LLC is a Motherlode sponsor that specializes in transforming homes into "havens" at (very) affordable prices. 
If you'd like Beverly's help with "re-freshing" your home, give her a call at 479-530-7357. Click HERE or the ad at right to visit Beverly's website and see more before/after pics!