Love is in the air, mamas! We'll be talking about parents and dating when we stop by Magic 107.9 Friday morning for our weekly chat with hosts Jennifer Irwin and Guy Westmoland. Tune in between 7:25 a.m. and 8:25 a.m. to join the discussion.
Click on the graphic below to listen to the radio live on your computer.
This will be a two-part discussion that covers single parents who are dating as well as married people trying to carve out some time for date nights with their spouse. Both scenarios have their own unique challenges. During the hour, we'll talk about some of the biggest dating issues:
How and where do single parents meet people to date?
Should you tell potential dates right away that you have kids?
When should your kids meet the person you're dating?
What if your kids don't like the new boyfriend or girlfriend?
Is "date night" for married people necessary or overrated?
Does "date night" really keep your relationship stronger?
What makes a good "date night"?
Here are some of the resources we used in preparing this on-air discussion. Click on the title of each article below to go to that website and read more: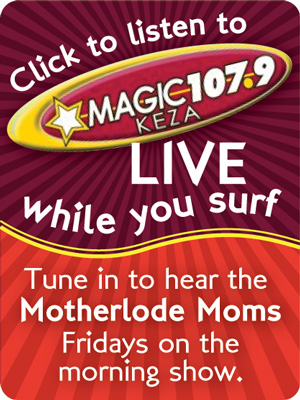 Tips for single parents (from the Parenting.com website)
Tips for men on dating a "yummy mummy" (from the AskMen.com website)
Safety advice for single parents who are dating (from RelationshipHeadquarters.com website)
Re-inventing date night for longtime married couples (from the New York Times.com website)
40 Great Dates with Your Mate (from Three-Peaks.com website)
Ways to Be Romantic on the Cheap (from ZenHabits.com website)
Fun stuff to do for date night in Northwest Arkansas (from the nwaMotherlode.com monthly calendar)
Save