We're pulling a little switcheroo this week. We're moving our weekly radio chat on Magic 107.9 to Thursday mornings instead of Fridays. This week we'll be talking about the importance and the dynamics of childhood friendships. Remember your best buddy from when you were a little kid? We never forget their names or their faces, do we?
We'll talk about why and how those early friendships are so important and what parents need to know to foster good friendship skills in our kids.
Tune in between 7:25 a.m. and 8:25 a.m. to join the on-air discussion with hosts Jennifer Irwin and Guy Westmoland. Or click on the graphic below to listen to the radio live on your computer.
Here are some of the links we used to prepare this radio topic. Click the title of each article below to read more about it.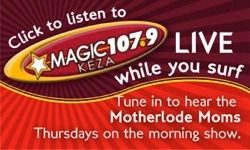 Save